You know, one of the main problems with reheating store-bought taco shells is that they often close up in the oven when heating thru, making them super hard to fill later. Then you end up breaking a few and you're forced to have "struggle nachos" instead of tacos. Don't you hate that? I mean, you could stand them up on their tips but that's not always foolproof because sometimes they tip over if one side is longer than the other, and even then they still find a way to close up on you.
Ohhhh, the sheer magnitude of your taco frustration!!
So what should you do? You could fry your own, but let's be serious — not everyone feels like doing that all of the time, nor do they even have the time. So for all of you who appreciate a decent shortcut, here's your solution…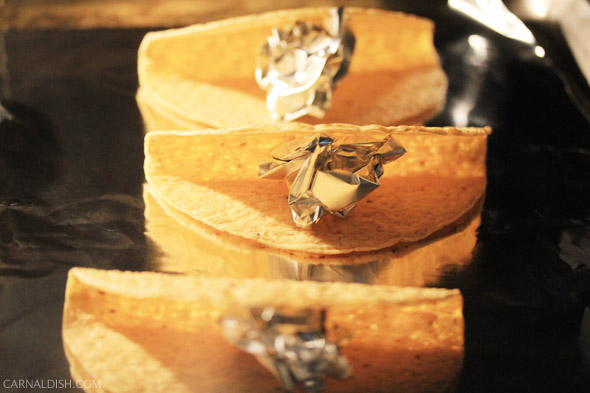 Lay your taco shells down on the baking sheet as you normally would and insert a small, loosely balled up piece of aluminum foil inside each shell, making sure it's wedged in there just enough to keep the shell propped open. Be gentle when inserting the foil, as you don't want to break your shell in half. Best of all, you can reuse these balls of foil over and over for as long as you want. Just keep them in a freezer size ziploc bag to give them room so that they don't get squished wherever you decide to store them. Proceed to toast the shells according to the manufacturer's instructions and fill them up with awesomeness.
And it's that simple!
Happy taco eating 😉
Disclosure
: This site uses various affiliate links. If a purchase is made using one of our affiliate links, we receive a small commission which helps support our efforts. You are under no obligation to make a purchase, but you're
greatly
appreciated if you do. Please read our
Privacy Policy
for more information.