Cod has always been one of my favorite proteins from the sea since I was a kid. I remember taking family trips to a now-extinct restaurant called Chesapeake Bay Seafood House, and they served this INSANELY good fried lemon-pepper cod. I got it every single dang time we went. I can literally still taste it and it's been well over 15 years since the last time I took a bite there. I'm sad thinking about it now. They even had amazing hush puppies. Man, this is restaurant heartbreak I'm going thru at this present moment. I could cry. I have never been more sad about a restaurant closing, ever. Somebody hold me.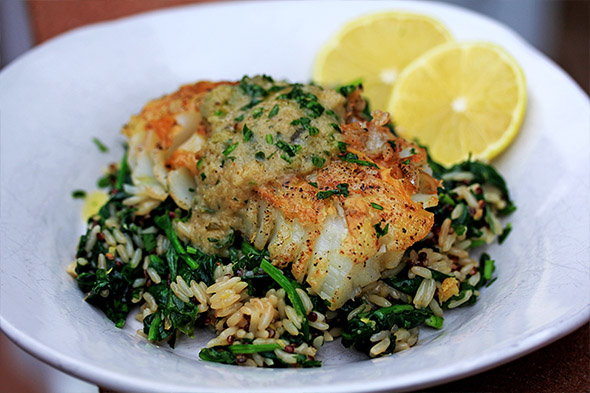 Anyway, I still love cod prepared just about any way. Beer-battered, seared, baked, roasted, broiled, oven-fried, it doesn't even matter. Cod is flaky, light, firm, and tender all at the same time. It's a great versatile fish that everyone should embrace into their homes and tummies. For this recipe, I took a whole skinless filet and cut it into four pieces, but if you can get your fishmonger to give you skin-on, and/or have him cut it for you, that would be even better. I'm resourceful though, so I worked with what I had on hand. This is a good thing though, because I can show you how to sear cod that doesn't have it's delicious skin attached. Because it's a moderately lean fish (not as fatty as salmon), we have to give it plenty of good healthy fat to sear in, and let the natural sugars caramelize the surface so we get a nice color.
If you use a non-stick pan, that would be great! I used my All-Clad skillet for this, which was what I grabbed first. If you use a stainless steel skillet, PLEASE use a fish spatula to flip this — otherwise you can seriously tear up your fish. It will still be edible, but it won't be as pretty. As with any sear, make sure you allow the protein to actually develop color before trying to flip it over.
Rule of thumb: if you try to flip it, and it's completely stuck, that means it's not ready to be flipped! Flipping should be a moderately easy process. Even with a skinless filet of cod, you'll meet a slight resistance, but it shouldn't be TOTALLY stuck, okay? So be careful flipping it, I cannot stress this enough. I will leave a note at the bottom of the recipe to help you better fool-proof this whole searing process. Basically, if you're nervous or don't have proper cookware/tools, lightly dust both sides with a tiny bit of either flour, rice flour, or corn starch. That'll help you out if you're super nervous about doing a naked sear. Also, if you don't have an immersion blender (make sure you get one btw), just puree the beer & sweet onion butter sauce in a blender or food processor.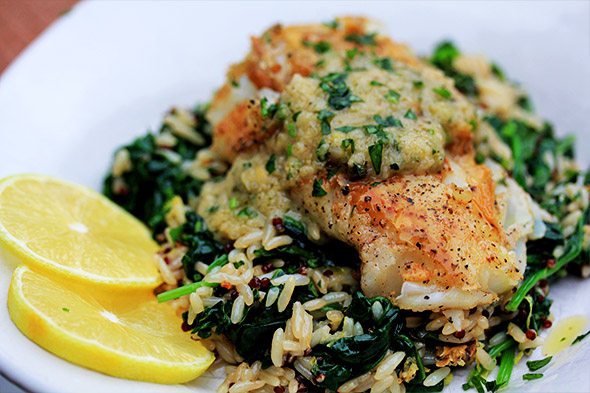 This recipe will work for skinless cod in a non-stick skillet even better. There is a smaller chance of it sticking and tearing up on you, but if all you have is stainless steel, then you should follow my instructions as best as you can. Please read the note below the recipe if you choose to use a non-stick skillet, or are terrified of your fish potentially sticking due to lack of experience — which is all good, we have to start from somewhere.
Print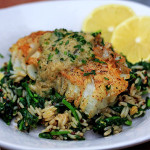 Seared Skinless Cod with Beer & Sweet Onion Butter Sauce
---
Author:

Resha from CarnalDish

Prep Time:

20 mins

Cook Time:

30 mins

Total Time:

50 mins

Yield:

4 or more servings
---
---
Recipe Card powered by
Disclosure
: This site uses various affiliate links. If a purchase is made using one of our affiliate links, we receive a small commission which helps support our efforts. You are under no obligation to make a purchase, but you're
greatly
appreciated if you do. Please read our
Privacy Policy
for more information.