If I had a list of the most comforting things I've ever made, this would top that list. I'm getting sleepy just writing about it. This is the perfect rainy-day, nothing-else-to-do, nowhere-to-go, i'm-not-leaving-the-bed-and-you-can't-make-me meal. It's like a delicious, flavorful hug for your entire being. It's all of these things without being too heavy, but let's just face it — turkey makes you sleepy. This meal is "rustic", it's not supposed to look perfect, it's just supposed to taste really good — and it does. There's also no formal way to eat this — you just scoop n'serve!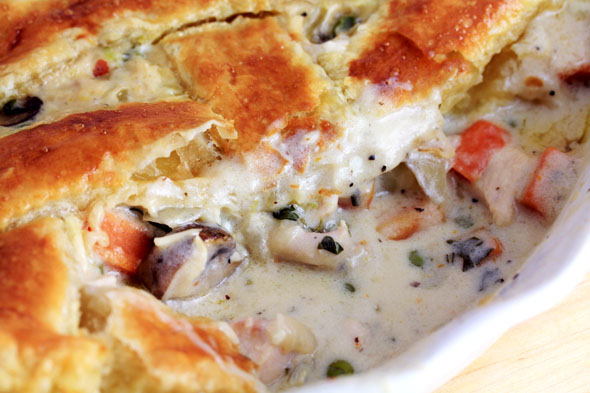 Comfort foods are my favorite part of the Fall/Winter seasons. You kinda have this excuse to curl up in front of the fire, or a boyfriend that exudes werewolf level body-heat, with a bowl of something that was prepared by hand and cooked all day. It's the perfect time of the year for meals like this. We all grew up on some form of pot-pie, most of us bursting our pot-pie cherries by eating a flavorless frozen version. I admittedly hated those pies, but made sure I ate the crust. That was really the only decent part of the pie, if that. Now that I'm an adult, I prefer my pot-pies to be creamy but not super thick and gloopy, like the frozen ones some of us grew up on. I like to be able to experience the texture of each vegetable in every bite. I hate potatoes that fall apart into a mealy mess, so I used Yukon Gold's. They're perfect for this recipe, so make sure you use them. I am a huge fan of the top and bottom crust, but not for whole pies. If I'm making a large pie — which I did here — I much prefer a top crust, only. That way I don't have to worry about leftovers getting soggy. This is the kind of meal I'd like to eat while playing footsie with my sweety, watching Home Alone on DVD, and eventually falling asleep before Mrs. McAllister even realizes she forgot her smallest child.
There are tons of comforting flavors going on here. The hamhock is only used for flavor — I'm a southern girl, and we love hamhocks lol. It lends the dish a wonderful salty flavor that only a pig can. No worries if you're against it though, you can simply leave it out. There's meaty mushrooms, peas, carrots, onion, potatoes, fresh herbs — my goodness. It's just a bowl of heaven. You could also turn this recipe into individual pot pies — just pour the filling into oven-safe soup bowls and bake away. You do not have to butcher and disrespect a lattice-top like I did, you could leave the puff pastry sheet whole with just a tiny vent hole for steam. Make these yours.
My boyfriend destroyed this pie pretty much all by himself. He didn't leave much for me, which is typical. When he loves something, he turns into a selfish food-hogging, adorable pile of testosterone that I can't help but love feeding. He also had the pleasure of warning me to never feed this pot-pie to another man, because it would be like cheating LOL!! The logic is hilarious. Anyway, either make this for your family, your significant other, or yourself — and you'll be rewarded with one of the most delicious, comforting meals you've ever eaten in your wonderful life.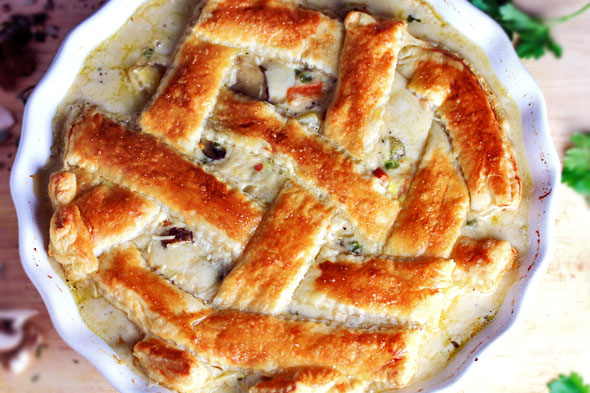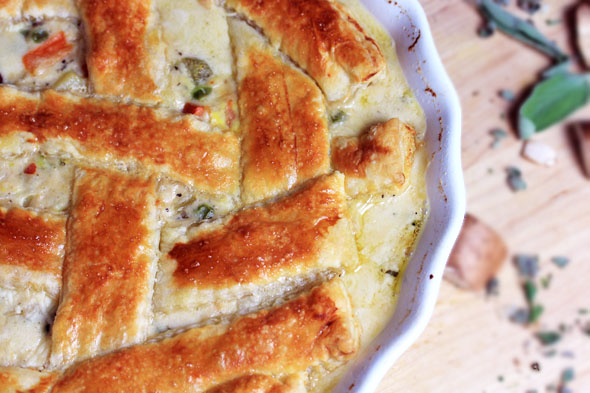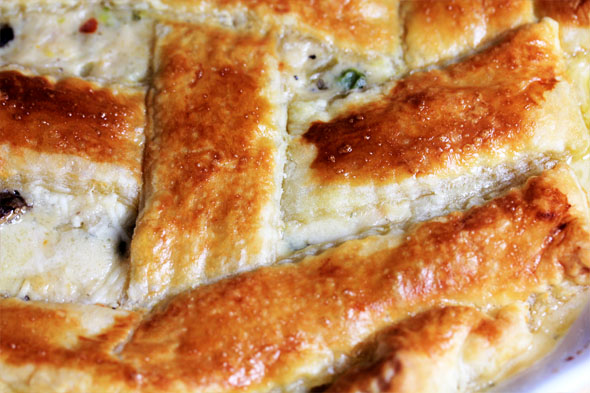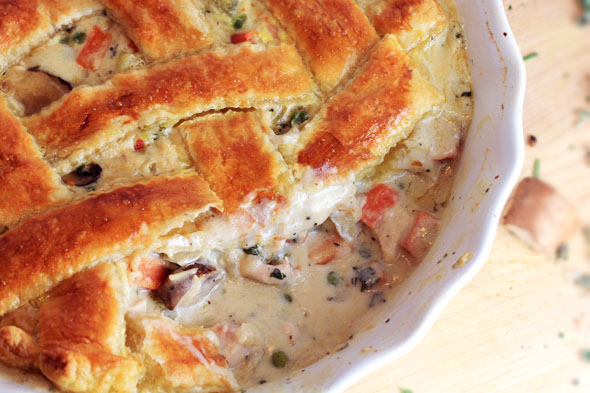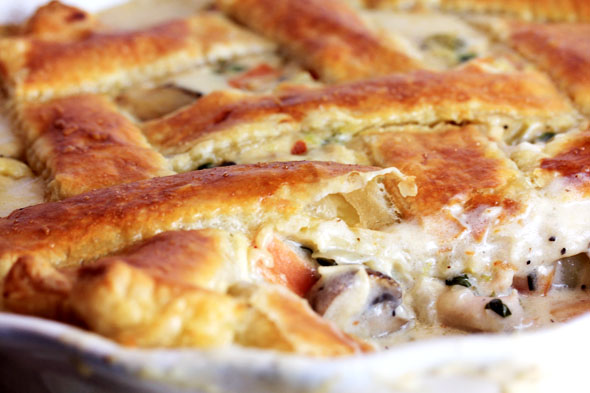 Print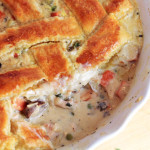 Creamy Turkey Pot Pie with Puff Pastry
---
---
---
Recipe Card powered by
Disclosure
: This site uses various affiliate links. If a purchase is made using one of our affiliate links, we receive a small commission which helps support our efforts. You are under no obligation to make a purchase, but you're
greatly
appreciated if you do. Please read our
Privacy Policy
for more information.