If you haven't had Chicken Tikka Masala, you haven't lived. I must say this now: this is not authentic, it's just damn good. I rarely do authentic anything, because I love and kinda must put my OWN spin on just about everything I cook. This stuff here is magic in your mouth, just sooo yummy and rich. The chicken literally melts in your mouth. I need you to try this version, just do it. Make it a weekend project, because the 4 hour marination REALLY sets this off.
Living near an international market is a blessing. I highly recommend you Google or Yelp for one in your area, you'd be surprised. Some of them hide in places you've probably driven by or flat out ignored. International markets are amazing for many reasons, but my favorite reason? The low prices on spices and seasonings! I remember going to regular grocery stores and paying between $5-$11 for a single spice. Girl, why? I can find a bag of dried chilis, or ground shrimp powder, or Indian cumin for like $2. So, naturally, I have a VERY large collection of spices and seasonings. I want to be able to whip up just about any kind of cuisine whenever the mood strikes. Today, the mood was chicken tikka masala. We literally buy chicken thighs several times a week, so the only thing I needed to buy was the yogurt.
Typically, people make this dish (which originated in Britain — wild!) with chicken breasts. No. No. Absolutely not. I mean, you're grown, you can do what you want, but I don't recommend breasts at all — at least not in this context. I HIIIIIIIGHLY recommend you find a pack of boneless/skinless chicken thighs and proceed to the magic. Thighs are just way juicier, more flavorful, and they are able to be braised a lot longer than breasts — which dry out fast and become leathery and chewy and just…no. No! Please don't use breasts for *THIS* recipe, because I'm suggesting you let this baby cook for a while. Not too long, under an hour but not the normal 20 minutes it would take with breasts. I am all about developing flavors, so sure, you could make this in 20 minutes with breasts, but I can't guarantee you'll get the kind of mouthgasm we got from the thighs and a longer braising time. It's up to you though, boo.
I also added more spices than most recipes you'll find online, just due to personal preference. Again, we like flavor around here, and I like to make things my own.
This is Chicken Tikka Masala, the CarnalDish way.
If you want authentic, you might wanna skip this recipe. But if you want damn good, keep scrolling.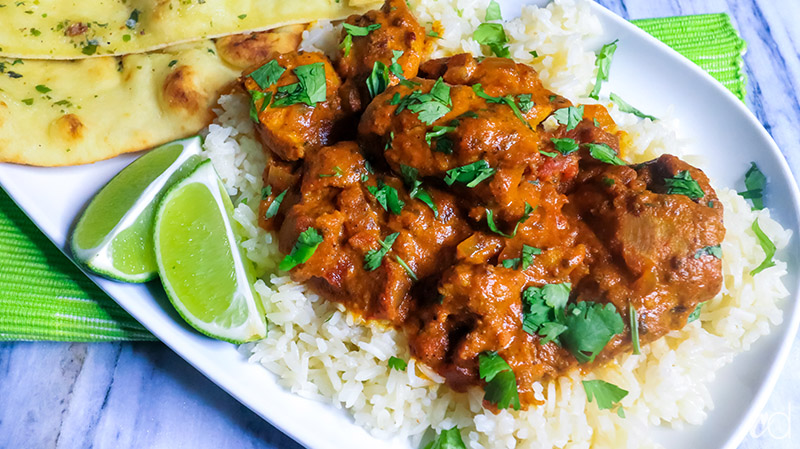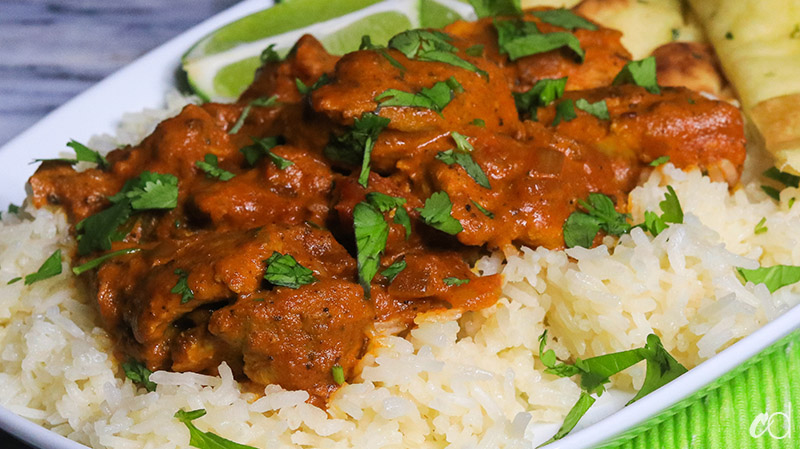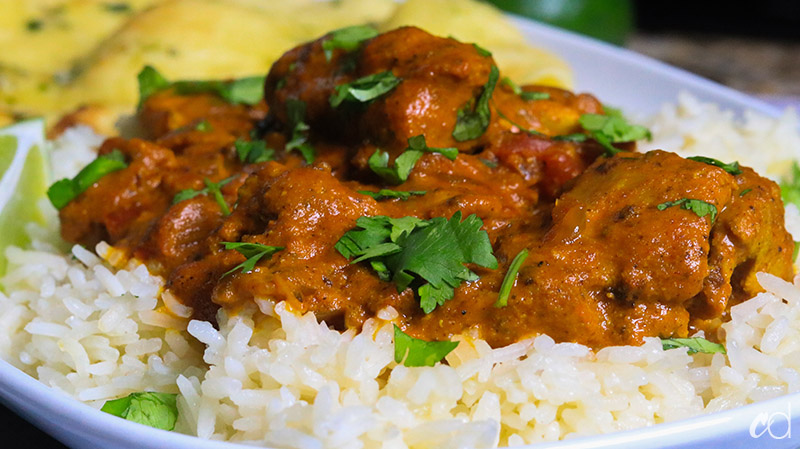 This. Was. SO. DAMN. GOOD!!!
It was even better the next day, I swear. The chicken was STILL tender and damn near melting in our mouths, just so good after being reheated. I'm sad it's almost gone. I may have to warm up a bowl before my boyfriend wakes up — because I know he'll kill it and leave me assed out.
Products/Tools used:
Print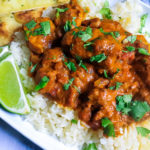 Chicken Tikka Masala
---
Author:

Resha from CarnalDish

Prep Time:

4 hours

Cook Time:

50 mins

Total Time:

4 hours 50 mins

Yield:

Invite friends, hella servings
---
---
Recipe Card powered by
Disclosure
: This site uses various affiliate links. If a purchase is made using one of our affiliate links, we receive a small commission which helps support our efforts. You are under no obligation to make a purchase, but you're
greatly
appreciated if you do. Please read our
Privacy Policy
for more information.