As I stated before, the "chocolate stout" cake/cupcake is my favorite as far as chocolate goes. It's so effing delicious. So this is a quick variation from the Irish Car Bomb cupcakes I made a few weeks back. This time, we're using peanut butter 😉
I've tried a few peanut butter buttercreams, and the most popular one online is from Ina Garten. I love her, she's one of hands down favorites on The Food Network, but I'm not feelin her peanut butter frosting. I mean, it's not disgusting at all. It's delicious, but it's just too "peanutty" for me, if that makes any sense. To me, it tastes like peanut butter taken out of the jar and slathered on a cupcake. I didn't fall in love with it, so I kept looking for a lighter one that would give me just enough peanut butter flavor without being too heavy. I found this recipe and saw that it was adapted from the famous Baked cookbook, so knew I had to try it. Unlike Ina's recipe, this one uses less peanut butter, so it's milder and easier to eat without feeling like you just swallowed a sock.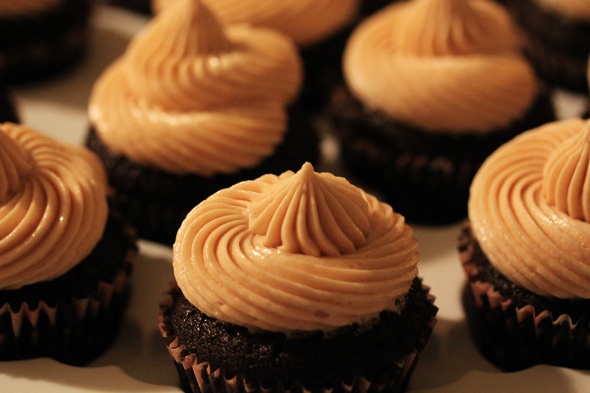 The chocolate stout cupcake recipe makes about 24 (or 2 dozen) cupcakes, and this peanut butter frosting recipe says it's enough for 24 cupcakes but I found that to be false if you're using a piping bag and decorative tips. Maybe if you were just slathering it on with an offset spatula, you'd have enough, but I had to add an additional cup or so of powdered sugar just to make it stretch. The good thing about this recipe is that it is customizable, so if you need to add another cup of sugar, it won't really affect the outcome. Just play around with it, but always start with the smaller amounts first.
The actual cupcake is insane, trust me on this. It's fool proof and easy to do, and sooo chocolatey without being too sweet or artificial. I have a lot of leftover Guinness in my fridge, so I'll be busting out different chocolate cupcake variations over the course of the next month or so.
Feel free to top these cupcakes with Reese's miniature cups, or Reese's Pieces…or even stick a tiny pretzel thru it, it'll be delicious. Enjoy 🙂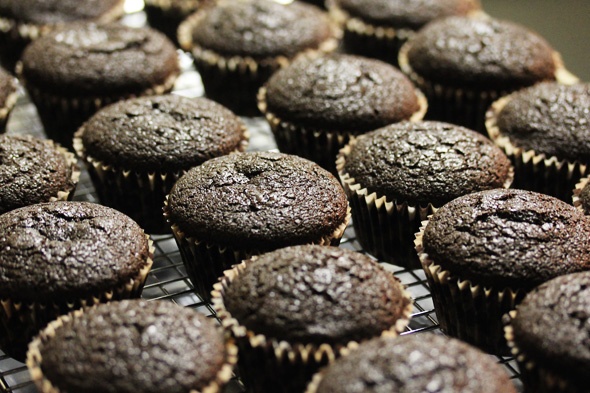 Cupcakes are cooling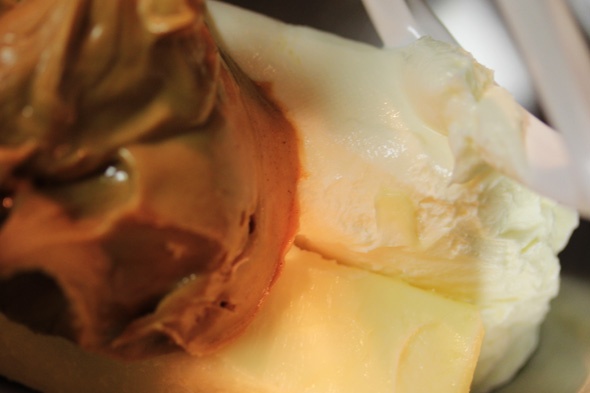 Buttercream is being made…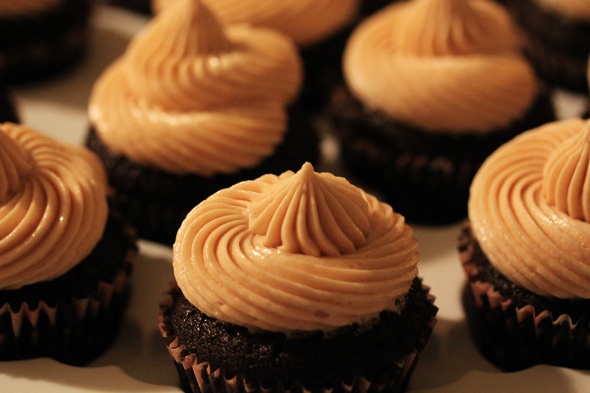 how cute??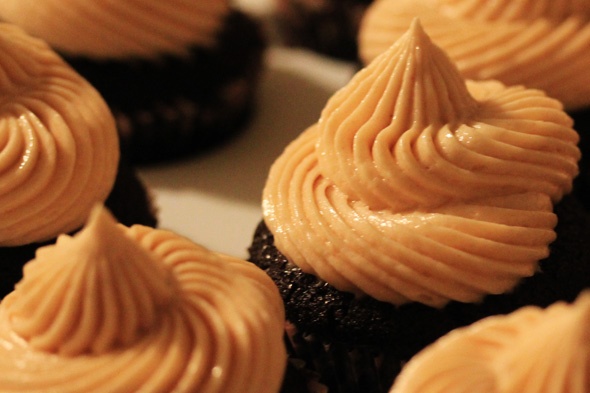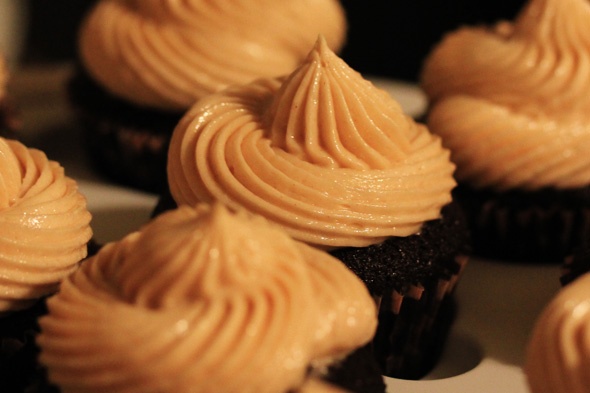 Print
1 cup

Guinness stout

1 cup

(

2

sticks) unsalted butter, at room temperature

¾ cup

Dutch-process cocoa powder

2 cups

all-purpose flour

2 cups

granulated sugar

1½ teaspoons

baking soda

¾ teaspoons

salt

2

eggs

2/3 cup

sour cream
---
Instructions
Preheat oven to 350 degrees F.
Line 24 cupcake cups with liners.
Bring the Guinness and butter to a simmer in a heavy, medium saucepan over medium heat. Add the cocoa powder and whisk until the mixture is smooth. Cool slightly.
Whisk the flour, sugar, baking soda and salt in a large bowl to combine.
Using an electric mixer, beat the eggs and sour cream on medium speed until combined.
Add the Guinness-chocolate mixture to the egg mixture and beat just to combine.
Reduce the speed to low, add the flour mixture and beat briefly. Using a rubber spatula, fold the batter until completely combined.
Divide the batter among the cupcake liners.
Bake until a thin knife inserted into the center comes out clean, about 17 minutes.
Cool the cupcakes on a rack.
Recipe Card powered by
Print
Peanut Butter Buttercream
---
Yield:

enough to generously frost 24 cupcakes
Description
Adapted slightly from Buttered Up and Baked cookbook by Matt Lewis and Renato Poliafto.
---
1

8-ounce block cream cheese, room temperature

½ cup

(

1

stick) unsalted butter, room temperature

½ cup

smooth peanut butter (not natural, commercial brand)

2½

to

3

cups confectioners sugar, sifted

¼ teaspoon

sea salt

1 tsp

vanilla extract
---
Instructions
Mix together cream cheese, butter and peanut butter with electric or hand mixer until well combined. Add icing sugar, vanilla, and sea salt, blend until well combined and frosting is smooth and creamy. Evenly frost on top of cupcakes. Decorate with peanuts if desired. Cupcakes and frosting can be made one day ahead, stored in airtight container at room temperature.
Recipe Card powered by
Disclosure
: This site uses various affiliate links. If a purchase is made using one of our affiliate links, we receive a small commission which helps support our efforts. You are under no obligation to make a purchase, but you're
greatly
appreciated if you do. Please read our
Privacy Policy
for more information.