My philosophy when it comes to making or eating cinnamon rolls is "Go big, or go home!"
Why anyone would want anything less than buttery, gooey, tender cinnamon sweetness from a beautiful cinnamon roll? If you're on a diet, or if you want a "low fat" cinnamon roll recipe, you're on the wrong damn blog. Scurry along if you're offended by the amount of beautiful buttery calories this treat proudly struts. Of course, this isn't something you should eat every day. This is pure decadence, pure gluttony, and pure mouth sex. Help yourself to something sinful once in a while.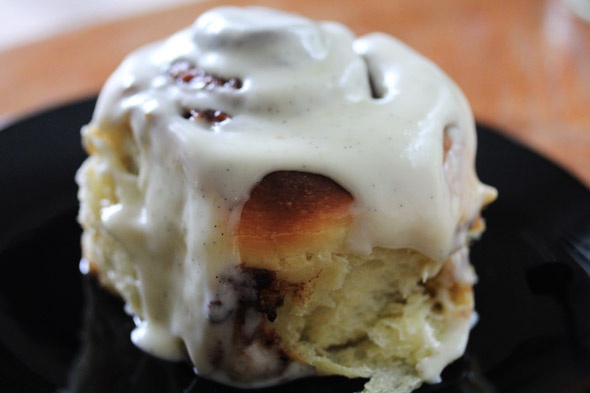 Please believe me when I tell you that these are the best cinnamon rolls I've ever had. They're even better than those famous cinnamon rolls you get at the mall, which I've noticed have decreased in quality over the years 🙁 They are much drier than they used to be, not as good when reheated, kinda tough — blah. Maybe it's just my mall, they're still really good, but not as great as they used to be. But these? These? Ma'am…have a seat and listen to what I'm saying…these are EVERYTHING!!!
This is my holy-grail cinnamon roll recipe and ridiculously easy this was to make. Not a whole lot of unnecessary steps at all. Another thing I absolutely love about this recipe is the texture of the dough. It's incredibly rich, buttery, and tender, yet it holds up very well due to the cornstarch. The cornstarch ensures a soft and tender dough because it helps reduce the protein in the all-purpose flour. So you get the softness of the cornstarch, and the durability of the AP flour. When baked, the rolls don't bake into each other making them difficult to separate, which is a huge plus and has something to do with the high-fat content, I'm sure lol. This recipe uses a buttery brioche dough, for starters. What does that mean? Well, there's so much butter in this dough, that you can roll these on a barely floured surface and not run into too much sticking. That also means your dough will bake up less "floury" tasting, and therefore less tough. These will melt in your mouth and leave your kitchen smelling like pure awesomesauce. I used Vietnamese cinnamon which is stronger and more flavorful, but regular cinnamon will be just fine if that's all you have.
You are more than welcome to use your very own icing recipe for these, because although the dough recipe is something I'll always keep, I know I'll switch up the icing because that's just how I roll. However, this time, I wanted to do something decadent and sinful…so I whipped up a vanilla bean cream cheese glaze (technically, a runny buttercream). Oh, man…so good. I will warn you, this glaze recipe is super rich, maybe too rich for some of you. I don't eat these often, so I went for the gusto. Don't worry if you don't have a vanilla bean, I just have so many lying around that I will throw them into just about anything to use them up. You can make the glaze as thick or thin as you want, just vary the amount of milk to suit your tastes. There is an alternate glaze recipe posted below if you're looking for something lighter and less rich. It's still incredibly delicious, but definitely more practical 😉
These will wow you…I promise. If you have any questions, or if something isn't clear, please don't hesitate to ask me. I'm here to help!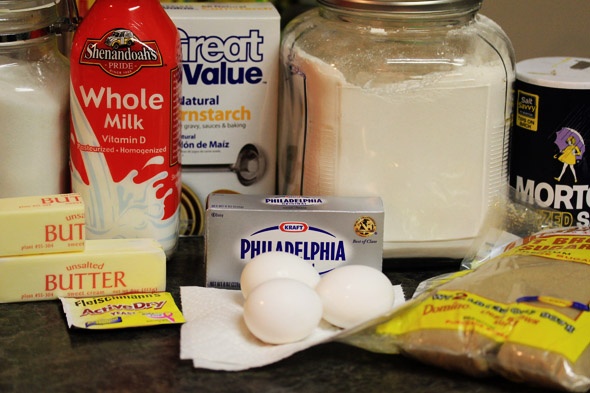 The gang's all here (except the cinnamon, not pictured lol).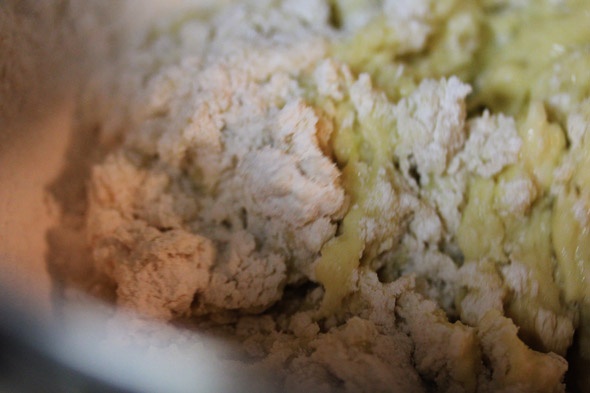 This is what your dough looks like as you're pouring the yeast and egg mixture into the flour mixture.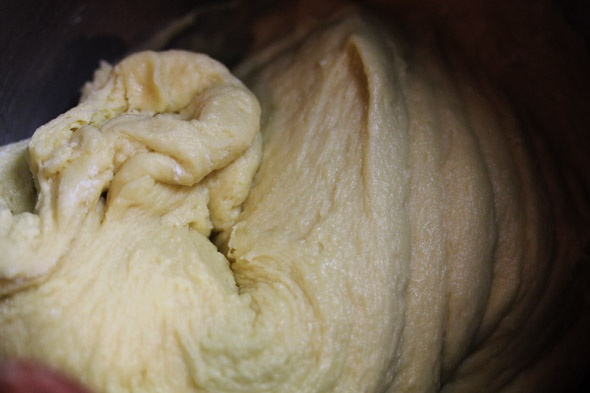 After 10 minutes of stand-mixer kneading, and a tablespoon of extra flour added to help it from sticking to the sides of the bowl, this is what the dough looks like. Super soft and super buttery.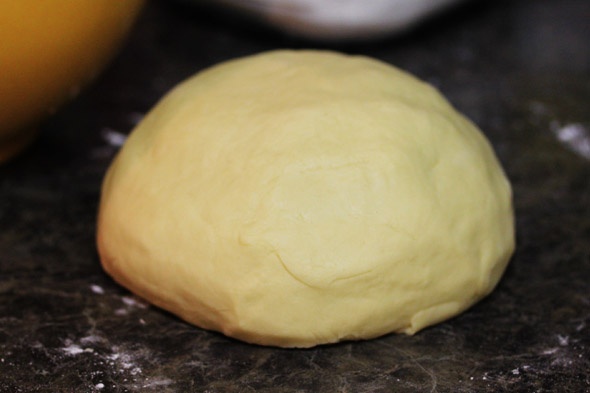 I kneaded this dough just for a few seconds to form in into a ball. I used a super light sprinkling of flour on the surface.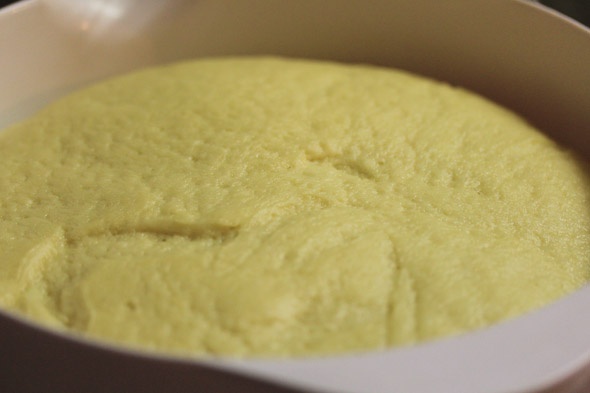 I warmed my oven to 200 degrees, turned it off, then put this bowl of dough in there to help it proof. It took exactly two hours to double in size.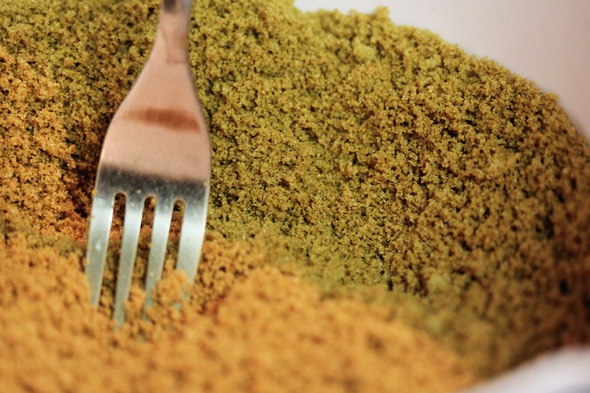 Meanwhile, I mixed the cinnamon, salt, and brown sugar together as evenly as I could and broke up all large lumps.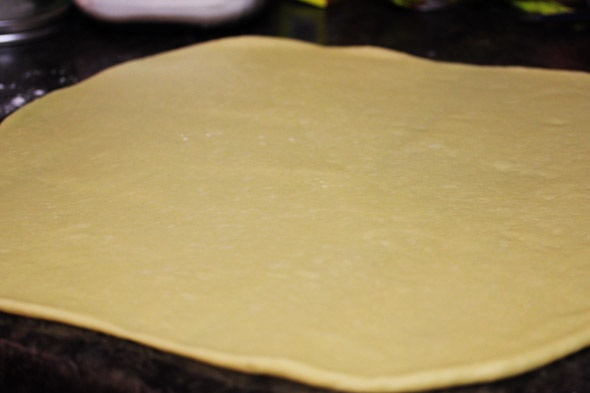 I used a rolling pin to stretch the dough out into a large rectangle.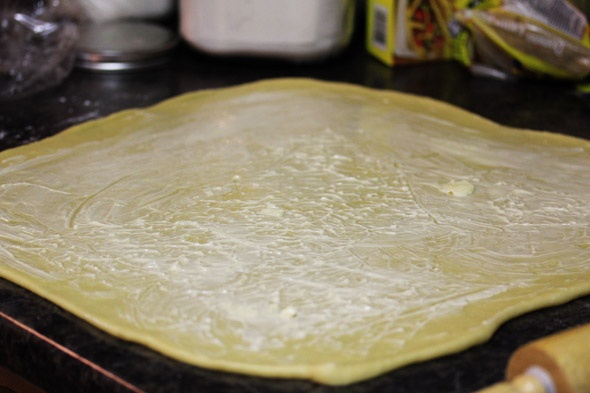 I spread softened unsalted butter all over the surface.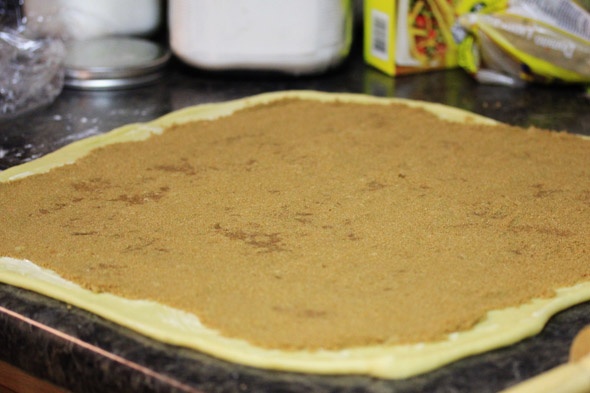 Then I sprinkled the cinnamon/sugar mixture over the butter, and lightly pressed it into the dough to minimize fall out when rolling up.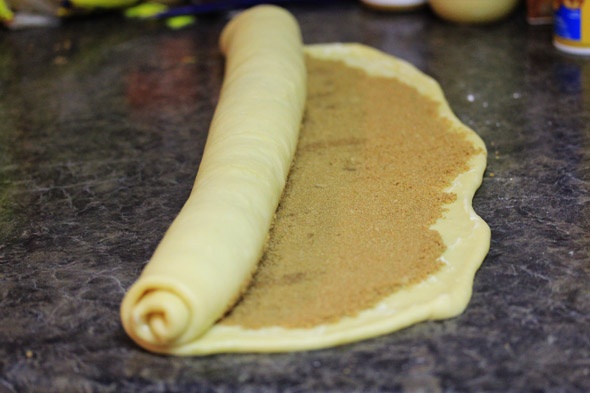 Roll her up!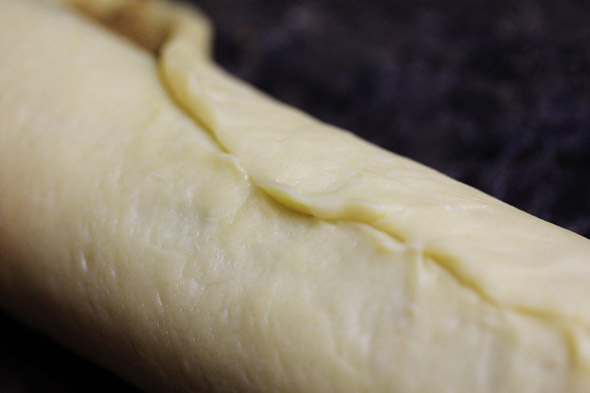 Pinch the ends together so that you don't have any of the filling oozing out.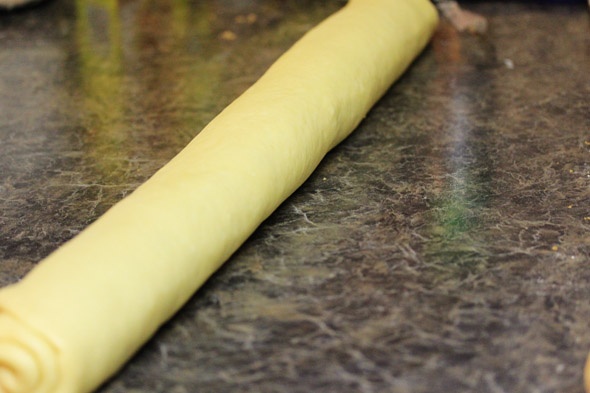 Place the dough log seam side down, and cut in half right down the middle. Then cut that half in half, and so on until you have 8 large rolls. Or, you could cut them into smaller rolls, its up to you.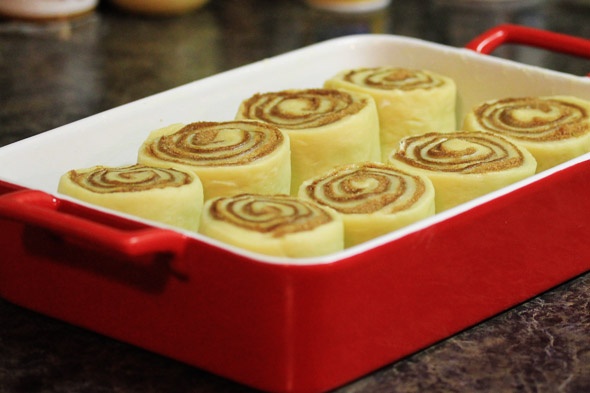 Place them in a buttered baking dish. I buttered all sides of this dish, and placed a small sheet of parchment paper on the bottom so that they'd be easier to fish out later.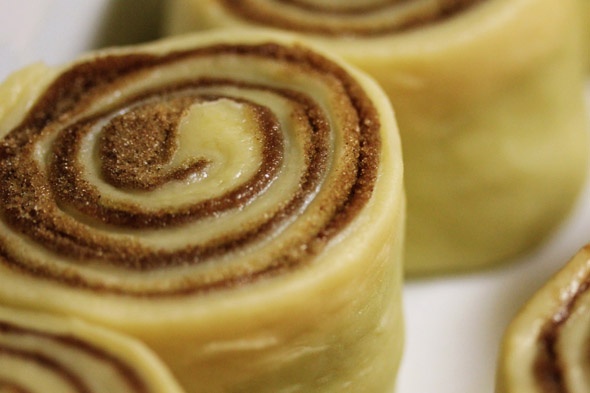 Just giving you a close up 😉 These are ready to proof for an additional hour before baking.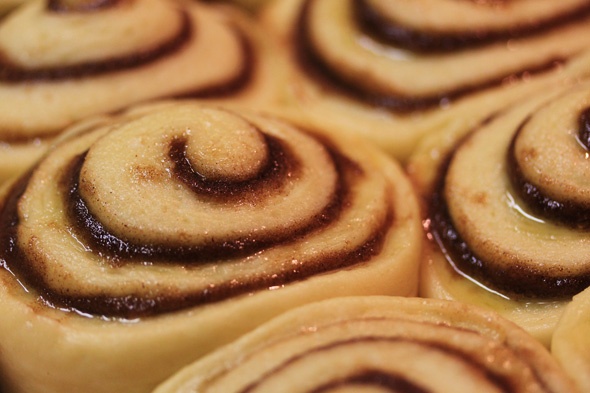 about an hour later, doubled in size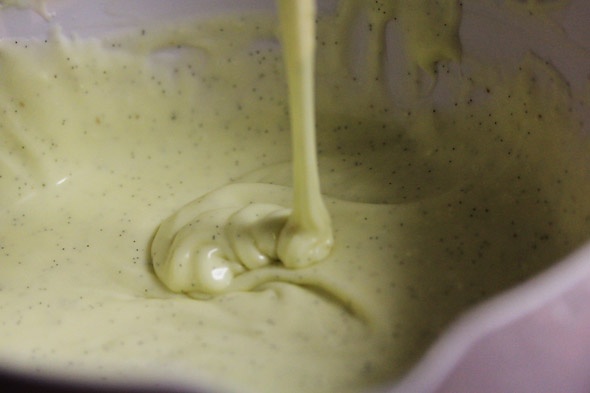 Make your glaze. You can use my super rich recipe, or create your own. If you want to make my recipe, but a less-rich version, simply leave out the butter and halve the cream cheese.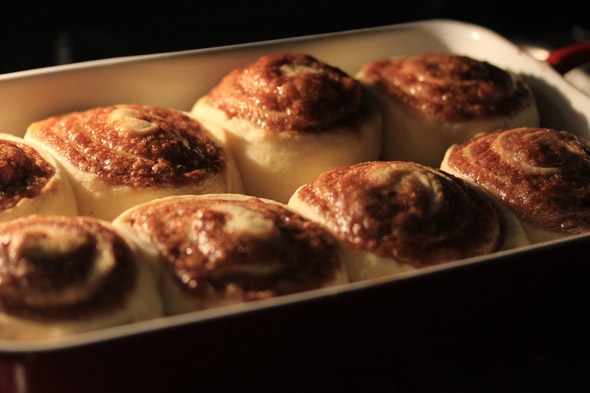 Pop'em in a 350 degree oven and watch the magic happen. I let mine bake for 35 minutes. You may need between 35 and 40 minutes of total baking time, depending on your oven. Keep these on the middle rack, btw.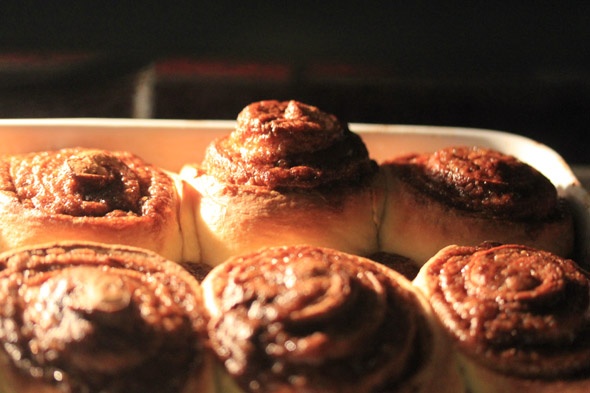 30 minutes later, look at how happy they're getting! They're almost ready to come out, about another 5 minutes.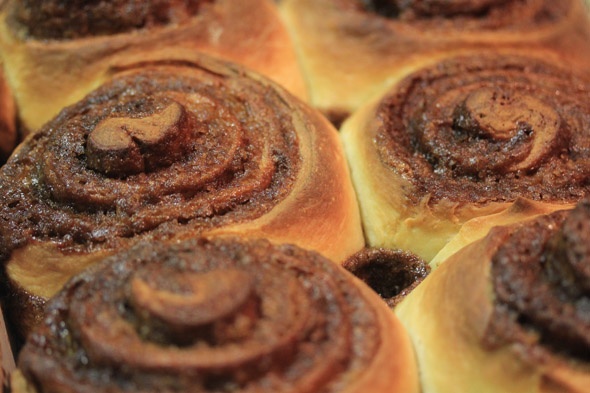 35 minutes later, candied surface, tender, gooey centers…begging for the glaze!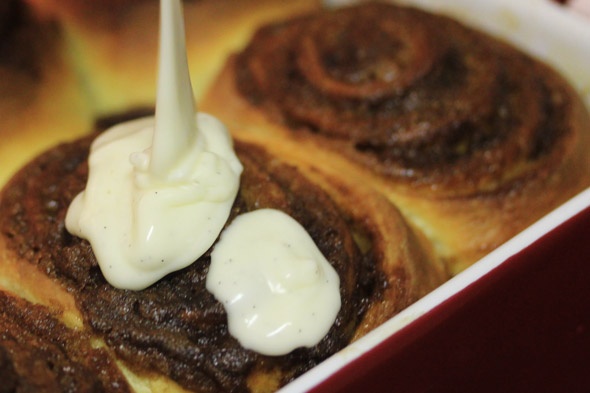 Pour it on, baby…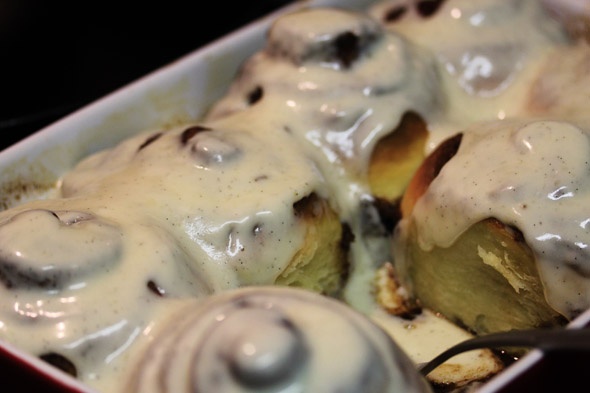 Yum!!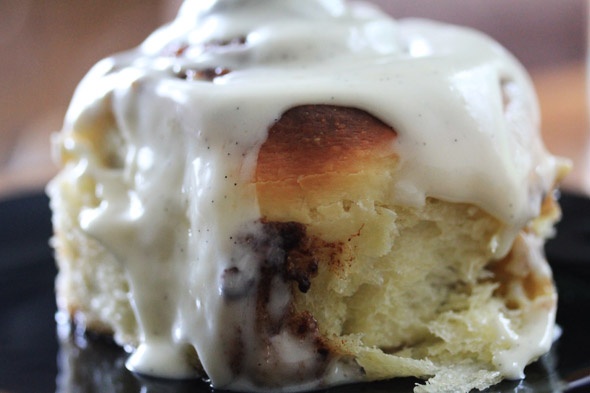 Look at her…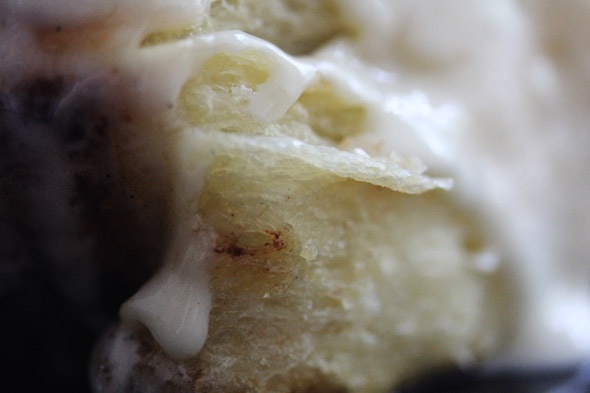 Look at her buttery layers…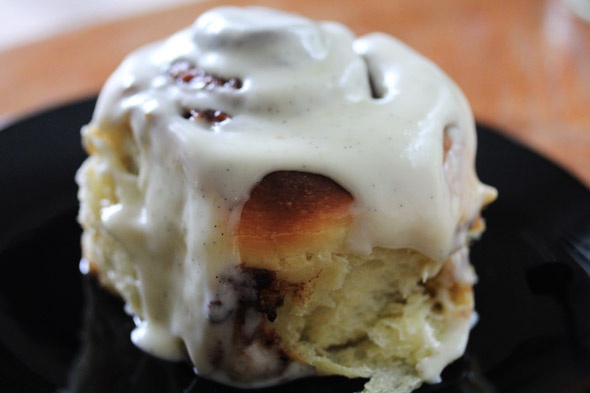 She's beautiful. She's soft. She's sinful. She's about to get devoured.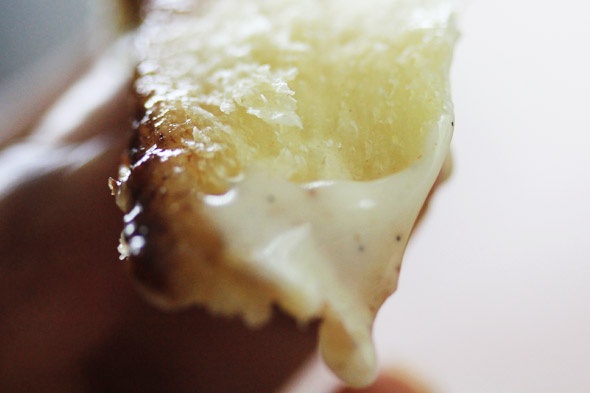 But…you can just see the butter…but don't be alarmed, these aren't "oily" at all. Just very soft, and very rich. The way a cinnamon roll should be.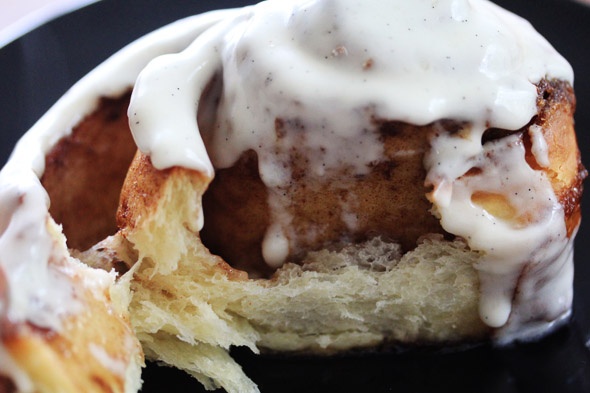 Goodness…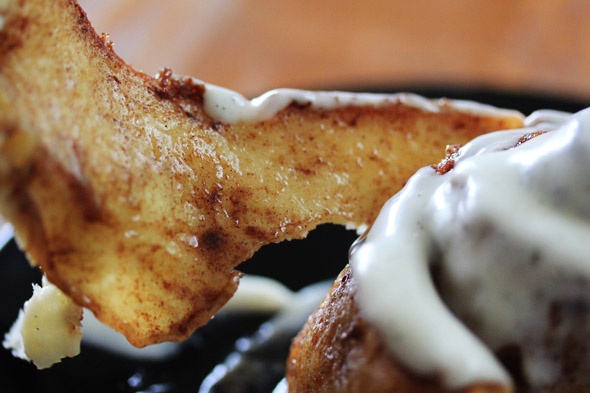 Decadence…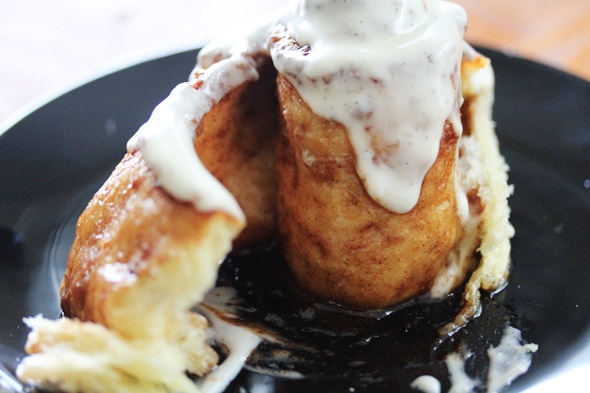 *sigh*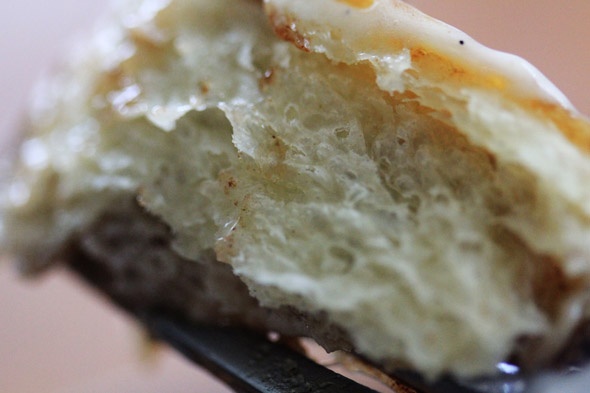 Yo, you have to make these…I'm serious.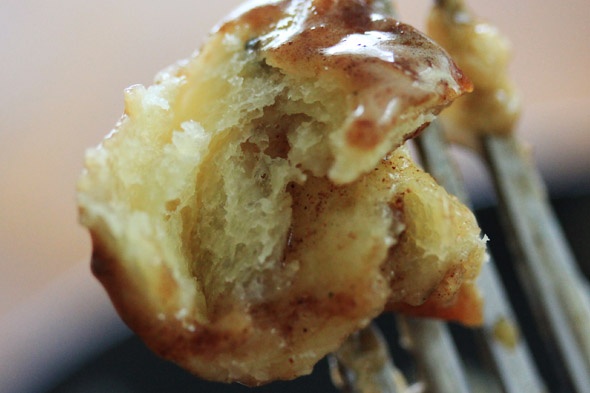 Last bite
Alternate Glaze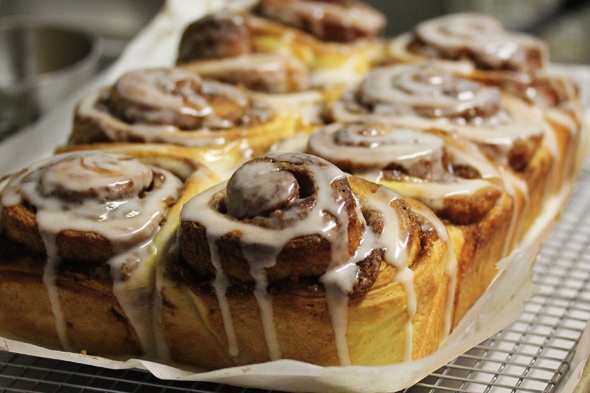 This version is much lighter and equally tasty!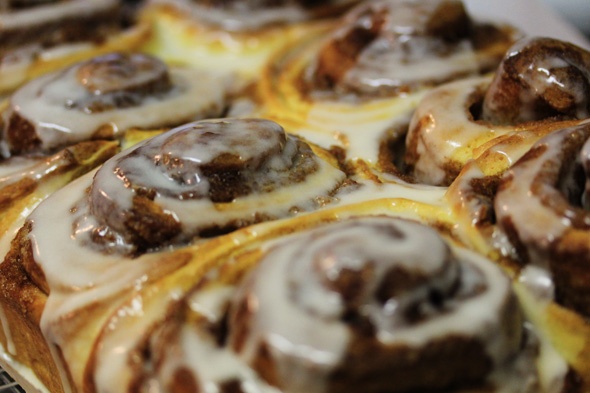 Use the recipe for this glaze if you want something as delicious but not as rich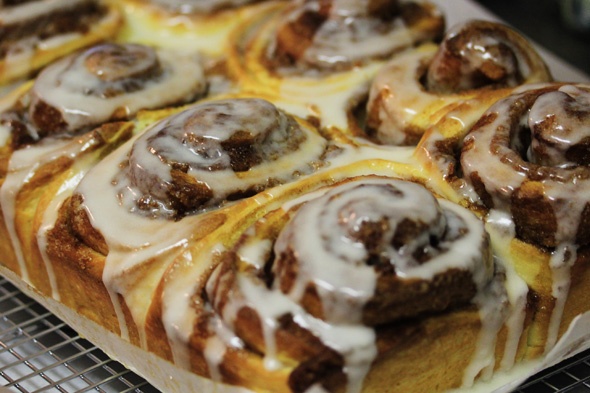 gorgeous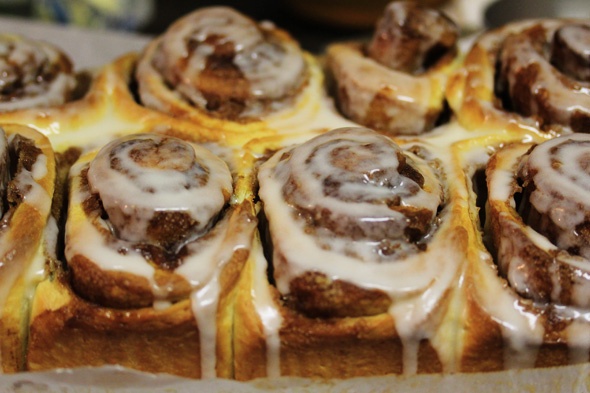 Ummm….yum?!?!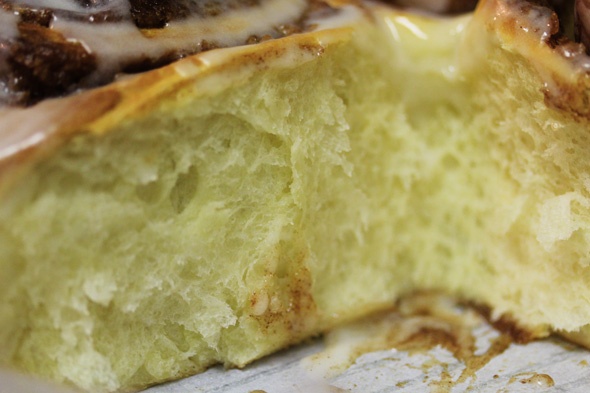 Soft, pillowy, buttery brioche layers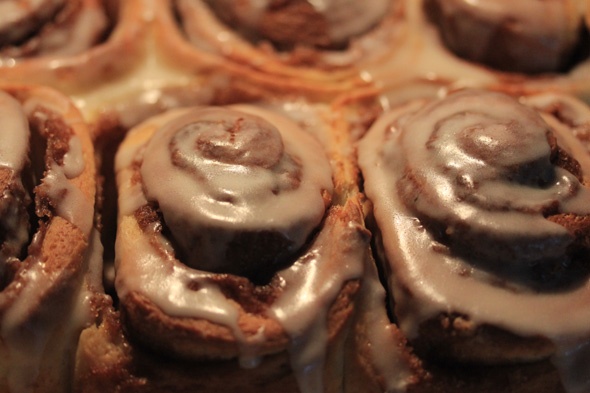 Still incredibly rich, gooey and soft after chillin uncovered for several hours
I'm full. These were worth the wait, and so very easy to make, even for a novice. Prepare yourself for the ultimate sinful cinnamon rolls, they will change your life.
Print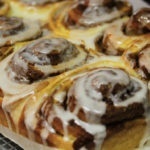 The Ultimate Sinful Cinnamon Rolls
---
Author:

Yield:

8

large rolls

1

x
Description
Recipe adapted from Cooks.
---
Scale
Ingredients
For the dough:
¾ cup

whole milk, heated to 110 degrees

1

envelope (2¼ teaspoons) instant or rapid-rise yeast

3

large eggs, room temperature

1 teaspoon

vanilla extract (optional)

4¼ cup

s all-purpose flour

½ cup

cornstarch

½ cup

granulated sugar

1½ teaspoon

s salt

12 tablespoon

s (

1½

sticks) unsalted butter, cut into 12 pieces and softened
For the filling:
1½ cup

s packed light brown sugar (don't use dark, it will be too heavy a molasses flavor)

1½ tablespoon

s ground cinnamon

¼ teaspoon

salt

4 tablespoon

s unsalted butter, softened
For the glaze:
8 ounce

s cream cheese, room temperature

4 tbsp

unsalted butter, room temperature

¼

to

½

cup whole milk (to thin it out, use more or less, it's up to you)

1 teaspoon

vanilla extract

1

vanilla bean, split (optional)

1½ cup

s confectioners' sugar
tiny pinch of salt
---
Instructions
To prep:
Adjust oven rack to middle position and heat oven to 200 degrees. When oven reaches 200 degrees, shut off. Line the bottom of a 13- by 9-inch baking pan with foil or parchment paper. Grease foil or parchment paper and sides of the pan. Also, grease a medium bowl to hold the dough when it's completed.
For the dough:
Whisk heated 110 degree milk and yeast in liquid measuring cup until yeast dissolves, then whisk in eggs and vanilla extract. In bowl of stand mixer fitted with dough hook, mix flour, cornstarch, sugar, and salt until combined. With mixer on low, add warm milk mixture in steady stream and mix until dough comes together, about 1 minute. Increase speed to medium and add butter, one piece at a time, until incorporated. I added my butter in 4 second intervals. Continue to mix until dough is smooth and comes away from sides of bowl, about 10 minutes. if after mixing for 10 minutes the dough is still wet and sticky, add up to ¼ cup flour (one tablespoon at a time) until the dough releases from the bowl. Turn dough out onto clean surface and knead to form a smooth, round ball. Transfer dough to prepared bowl, cover with plastic wrap, and place in warm turned off oven. Let rise until doubled in size, about 2 hours.
For the filling:
Combine brown sugar, cinnamon, and salt in small bowl using a fork or your fingers to break up any large lumps. Turn dough out onto lightly floured surface. Roll dough into 18-inch square, spread with 5 tbsp of softened butter, and sprinkle evenly with filling. Lightly press the filling into the dough. Starting with the edge nearest you, roll dough into tight cylinder, pinch lightly to seal seam, and cut into 8 pieces using either a serrated knife or bench scraper. It's easier to cut the dough in half, then cut each side in half until you have 8 large rolls. For smaller cinnamon buns, cut the dough into 12 pieces. Transfer pieces, cut-side up, to prepared pan. Cover with plastic wrap and let rise in warm spot until doubled in size, about 1 hour.
For the glaze and to bake:
Heat oven to 350 degrees. Whisk cream cheese, butter, ¼ milk, vanilla, vanila bean and confectioners' sugar in medium bowl until smooth. If mixture is too thick, add a little more milk, up to ½ half cup. Discard plastic wrap and bake buns until deep golden brown and filling is melted, 35 to 40 minutes. Cool for about 5 minutes then pour over some of the glaze. You may not have to use all of the glaze, I didn't. I stored the rest of the glaze in the freezer for later use. Serve immediately.
*Make Ahead: After transferring pieces to prepared pan in step 3, buns can be covered with plastic wrap and refrigerated for 24 hours. When ready to bake, let sit at room temperature for 1 hour. Remove plastic wrap and continue with step 4 as directed.
*Reheat any leftover rolls in the microwave for 10 to 20 seconds.
---
Notes
For a richer glaze: 1½ cups powdered sugar
¼ cup half & half or whole milk, plus more if needed
2 tbsp softened butter
½ tsp vanilla extract
Recipe Card powered by
Disclosure
: This site uses various affiliate links. If a purchase is made using one of our affiliate links, we receive a small commission which helps support our efforts. You are under no obligation to make a purchase, but you're
greatly
appreciated if you do. Please read our
Privacy Policy
for more information.