I love seafood. I could legit live off seafood *record scratch* — actually, throw in some turf (steak) and maybe that'll be a reality. I love my cow, but we'll get into that later. Anyway, yea…seafood is my boo. I also love sandwiches. Big and small, wide and tall, I love'em all. Almost anything between two slices of bread is probably gonna put you two steps closer to God, but this sandwich might get you there a little faster. I cried a salty tear of bliss as I ate this sandwich in the fetal position of my living room. Don't judge me.
This delicious sandwich starts with a slice of toasted perfection, basted with a garlic infused herb oil, then followed by a thin layer of spicy lemon-caper mayo, arugula, bacon, juicy tender salmon, sweet roma tomato slices, crispy onion rings, another thin layer of spicy lemon-caper mayo, and the final slice of toasted bliss. Add that all up and you have sex on a plate. But the only protection you'll need is a bib.
If you're absolutely not about that salmon life, you can use an entirely different piece of fish. You don't have to do everything I tell you to 😉 I've done this kind of sandwich with tilapia, cod, haddock, catfish…the possibilities are endless. This would even be great with tuna. You could leave out the bacon but that would make you a terrorist. I'm kidding…sorta…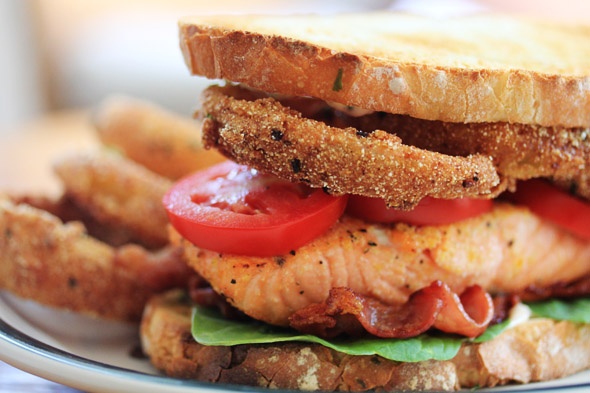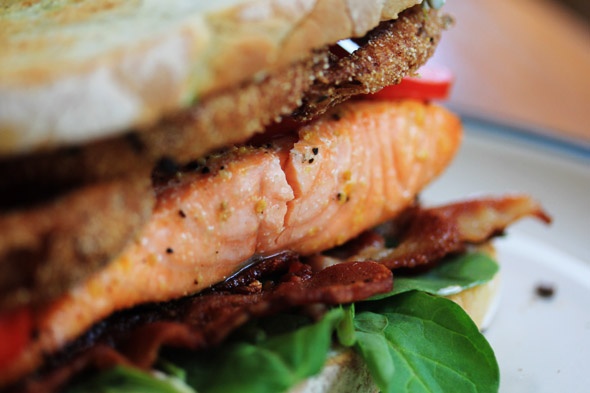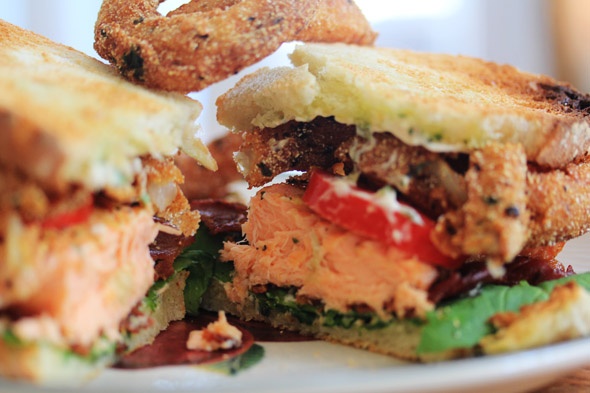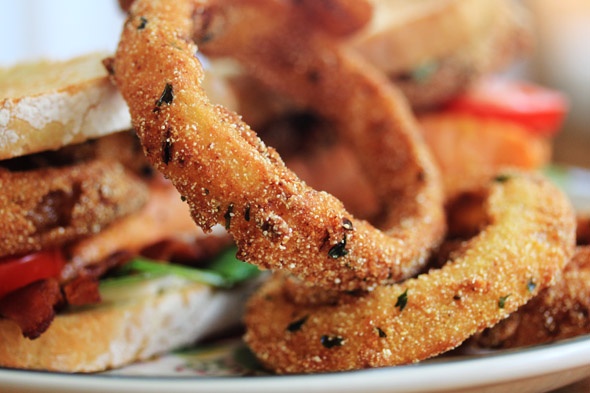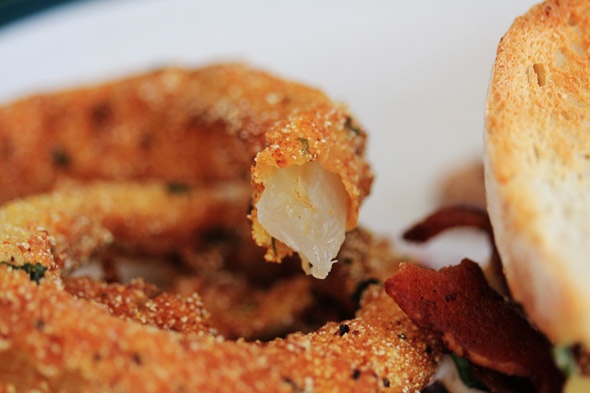 Cook your salmon, fry your bacon, and assemble this beautiful thing…now!
*I toasted my bread after brushing one side of each slice with a little Basting Oil from Wegmans. If you don't have this, you can make a really yummy bootleg version using: olive oil, garlic powder, dried thyme and dried parsley.
Disclaimer: Please note that some of the links on each post, recipe, and/or page may be affiliate links and I will earn commission if you make a purchase through those links, which helps support the site. You are under no obligation to purchase any products through any affiliate links posted here.