If you really wanna kick your grilled steak or chicken up a few notches, drizzle this delicious and super sexy concoction of herbal greatness over your dish and watch your tastebuds dance. When grilled meats meet chimichurri, it's a match made in culinary heaven. So delicious and super easy to make.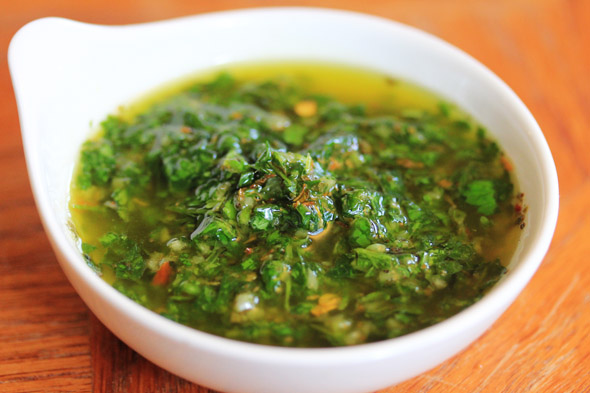 Chimichurri sauce originates in Argentina, but has made its way around the world and for good reason — it's everything. A pure joy to have in your fridge. I buy fresh cilantro and fresh parsley every week, so this recipe is a great way to use those ingredients up — and it keeps for several days! I use this recipe a lot in the summer during "grilling season", because it seriously compliments your food in a way that you just have to taste to believe. But you can use it on non-grilled meat too. It's tangy, it's peppery, it's spicy, it's garlicky, a few sweet notes linger, then it's mellowed out by the olive oil. Fabulous. Make sure you use good quality olive oil here folks, because it seriously makes a difference and is a prominent ingredient in this sauce.
All you need to make this is a food processor, or some serious knife skills. Lastly, you whisk in the oil and let it hang out in the fridge up to 3 days in advance before you decide to use it. The longer it sits, the more incredible it tastes.
For use on
Grilled chicken, steaks, seafood, and vegetables
Sandwiches
Salads
Drizzled lightly in soups (tomato, potato, butternut squash, etc.)
Can be used as a marinade for grilled meat
A little goes a LONG way. Go make this, now and I promise it'll be something you'll want to have on hand all the time.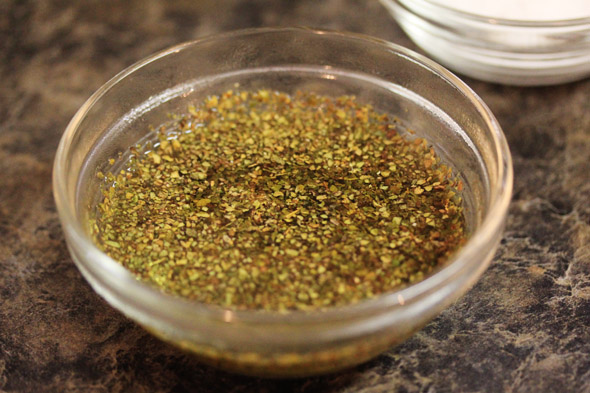 First, "bloom" your dried oregano in hot water, along with the kosher salt. Just let it sit and soak for about 5 minutes. Alternately, you could use 1 teaspoon of fresh oregano, just throw it in the food processor and skip the hot water step.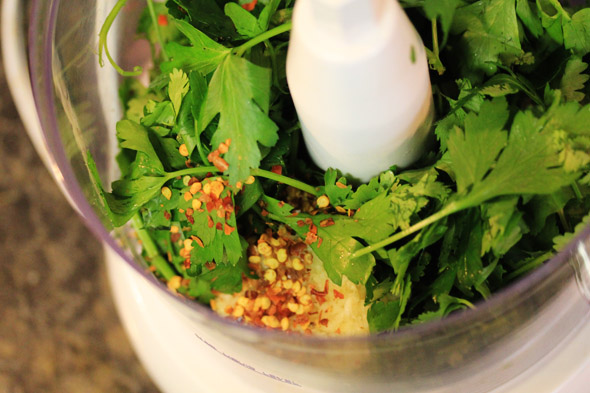 Throw parsley, cilantro, garlic and red pepper flake in the food processor first. Pulse until nice and chopped. Try not to include as many stems as I did here lol, it just makes me harder to break down and produces more liquid than you'd want (it's still delicious, but just a heads up).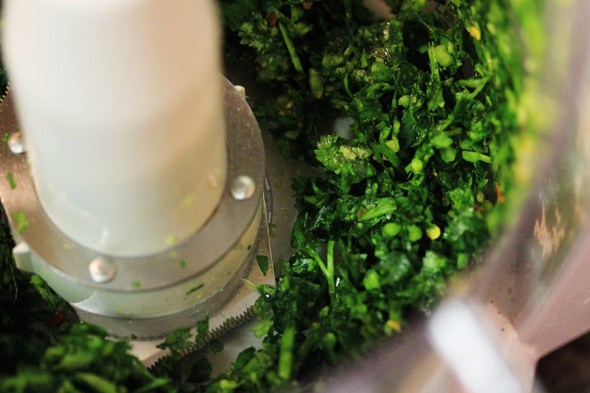 Chop all of those ingredients together, then add in the hot water/salt/oregano mixture, and the red wine vinegar. Pulse again until combined.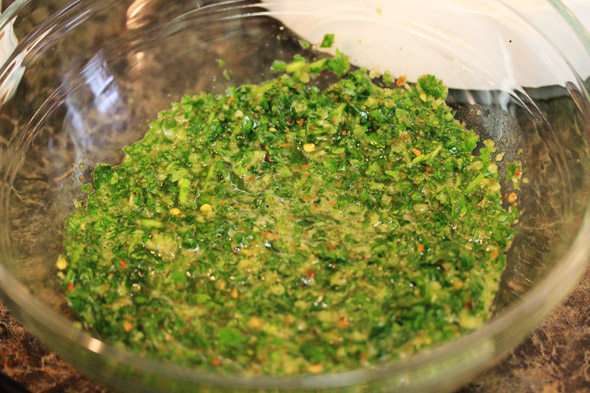 Your mixture should look something like this…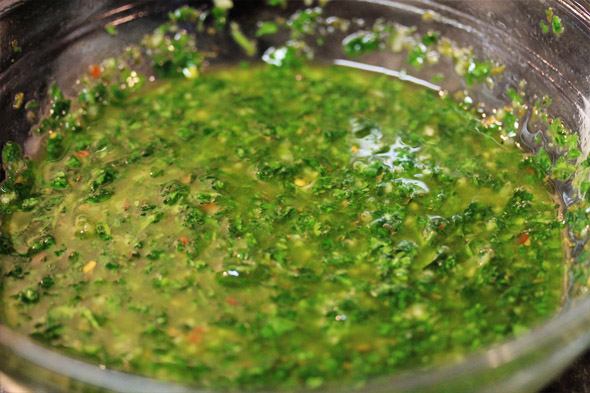 Drizzle in the olive oil while whisking to emulsify everything. Cover with plastic wrap and let it hang out in the fridge for at least an hour before eating, or up to 3 days in advance
Quick & Easy Chimichurri Sauce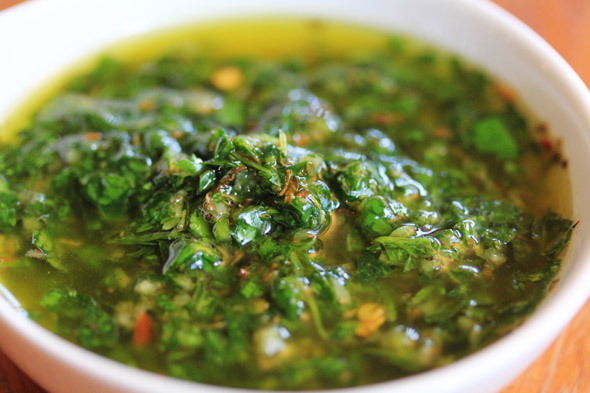 adapted from Cooks Illustrated.
Ingredients
¼ cup hot water
2 teaspoons dried oregano
2 teaspoons kosher salt (or 1 teaspoon table salt)
1⅓ cups loosely packed flat-leaf parsley leaves
⅔ cup loosely packed cilantro leaves
2 tablespoons fresh garlic, minced (from about 6 or 7 cloves, NOT the stuff in the jar)
½ teaspoon red pepper flakes
¼ cup red wine vinegar
½ cup extra-virgin olive oil
Instructions
Combine hot water, oregano, and salt in small bowl; let stand 5 minutes to soften oregano and bloom its flavor. Pulse parsley, cilantro, garlic, and red pepper flakes in food processor until coarsely chopped, about ten 1-second pulses. Add water mixture and vinegar and pulse briefly to combine. Transfer mixture to medium bowl and slowly whisk in oil until incorporated and mixture is emulsified. Cover with plastic wrap and let stand at room temperature at least 1 hour (if preparing sauce in advance, refrigerate and bring to room temperature before using). When ready, drizzle over your food, but keep in mind that a little goes a very long way.
Enjoy!
© 2012 carnaldish.com
Note: this chimichurri sauce can be made up to 3 days in advance.
Pin It
.