God these are addictive. Before you know it you've eaten like 6 to 8 wings all by your fatass self…or maybe that's just me lol.
I love chicken 99 ways from Sunday, but the stickywing is one of my top 10 favorite wing variations. I get a slight crisp from the rendered skin, mixed with a sweet and spicy, sticky glaze that causes you to eat these like you lack serious home-training. You'll be sucking and licking your fingers a lot as you eat these, so have the napkins handy.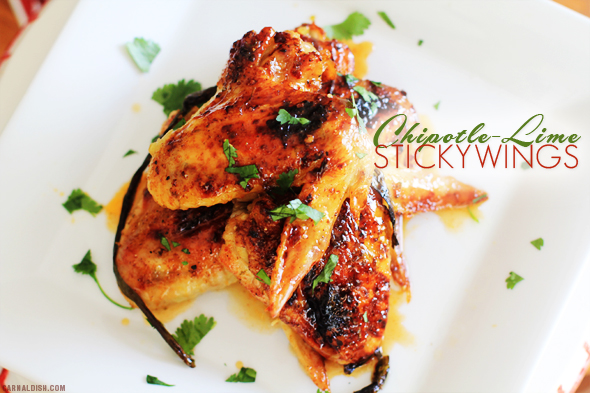 Each wing is flavored to perfection — juicy, sweet, spicy, smoky and warm, bright and delicious. They're not too spicy, but feel free to adjust the heat/sweet levels to your personal liking — I just gave you a decent starting point.
I loved these, so very much. I wanted to hug them with my mouth — which I eventually did. The scallion gives the entire dish a mild hint of roasted onion flavor without being overpowering. The chicken itself cooks in about a half hour, and you have to be patient and allow the meat to rest for 10 minutes before you dive into it. Even if you allow the chicken to cool to room temperature, it will be even stickier
I like to sprinkle just a bit of kosher salt all over the glazed chicken right at the end just to give it contrast and enhance the flavors of the honey/maple syrup based glaze.
Have fun with this recipe and switch it up to your own personal tastes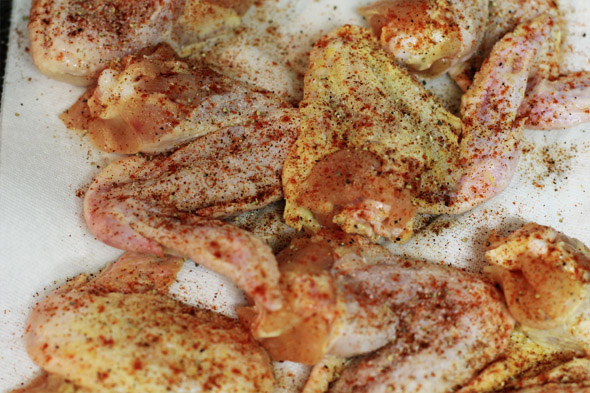 I sprinkled the seasonings over each wing to my personal liking. Use as much or as little as you like, but go easier on the cayenne pepper because it's hot and you can easily over-do it.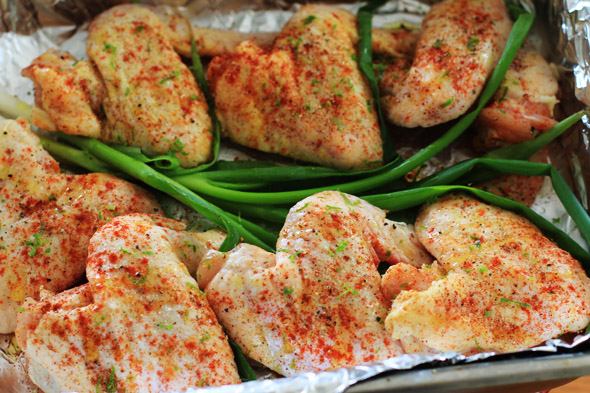 Then flip the chicken over so the flatter side is facing up, like this. Sprinkle the lime zest over each wing then cook these babies.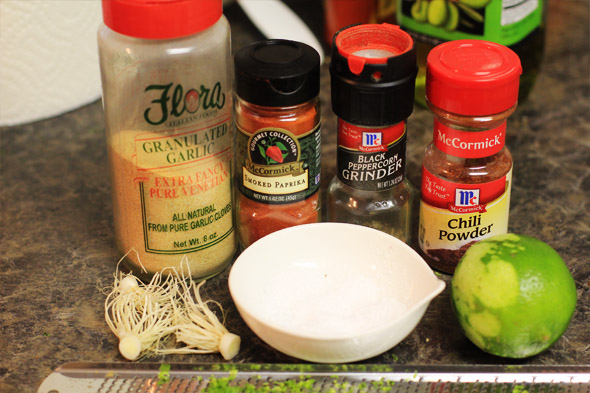 By the way, these are the seasonings I used…granulated garlic, smoked paprika, black pepper, chili powder, kosher salt (in the dish), and lime zest from half a lime. Oh, and I obviously arranged three scallions between the wings to give it a nice mild onion flavor…this is optional.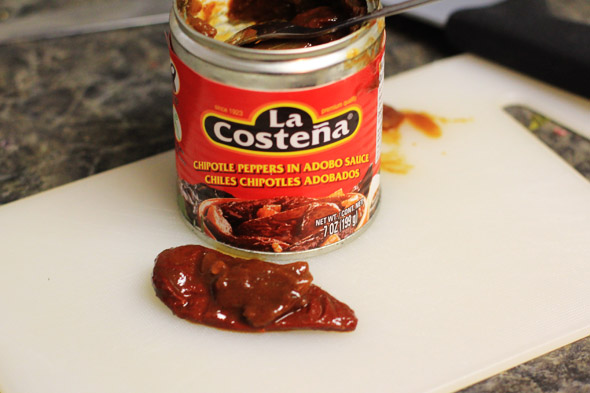 Chipotle peppers in adobo sauce — I used one pepper and it gave me great heat and smokiness. Add one pepper and taste, but if you prefer more heat, add another. You can find these peppers in the Mexican food aisle of your grocery store.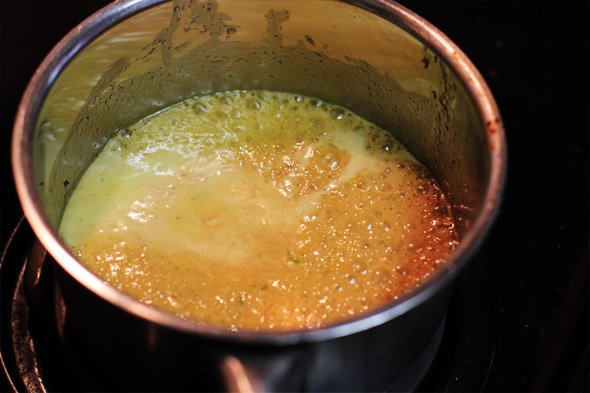 This is the simmer I had going. Be careful not to let this boil over — and it can, so keep an eye on it. Let it reduce slightly, about 5 to 8 minutes, stirring frequently. Cover loosely and set aside. It will thicken as it sits.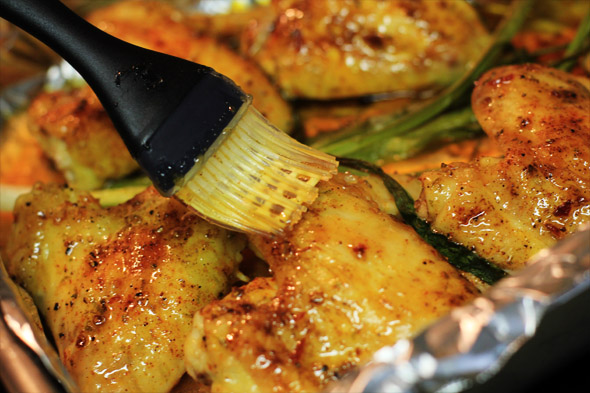 After 20 minutes of roasting, remove the chicken wings out of the oven and brush 2 layers of the glaze over the wings. Place the wings back in the oven for an additional 10 minutes. Allow them to rest for 10 minutes, then add one more coat of glaze. Sprinkle a little kosher salt over each wing to enhance the other flavors if need be. Serve with lemon wedges and chopped cilantro as a garnish.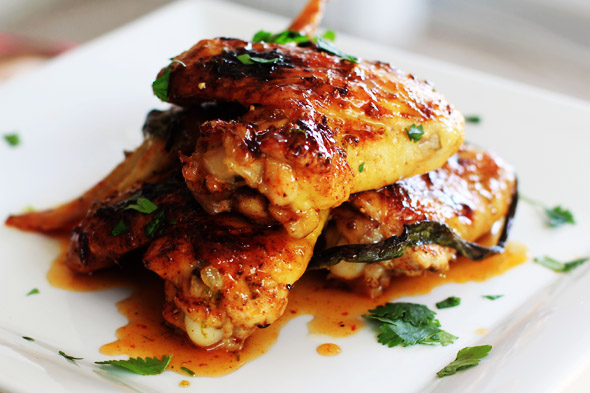 Serve'em up!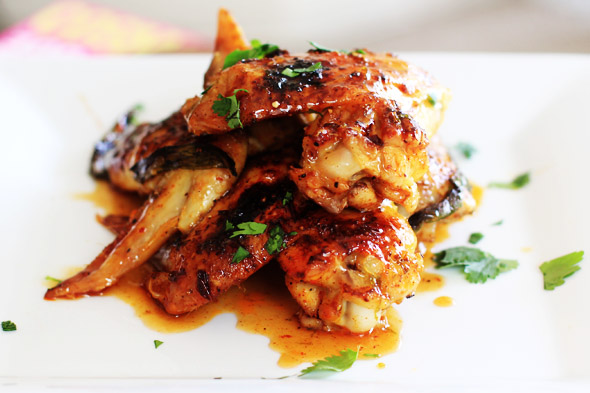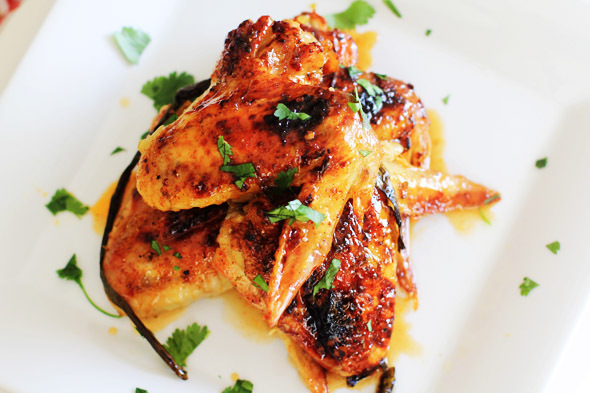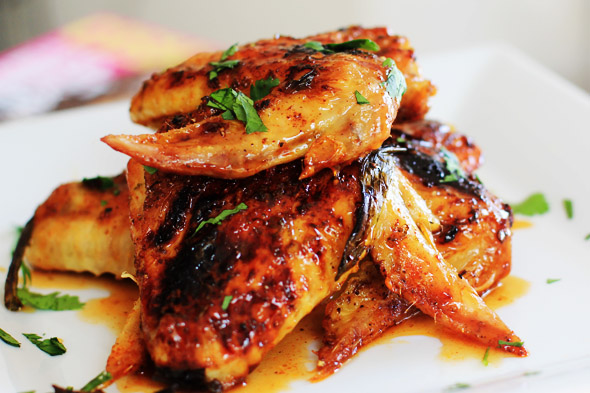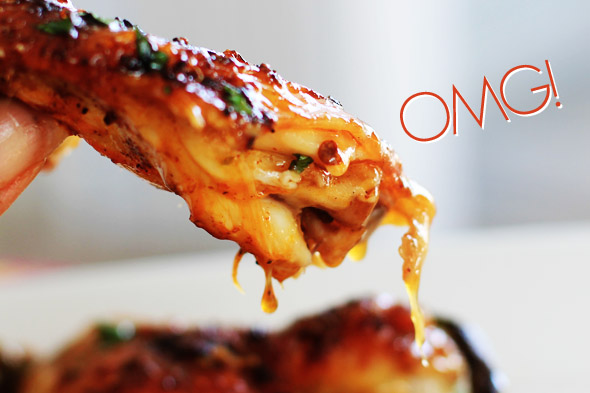 Juicy, super flavorful, and fun to eat. Enjoy these wings, you guys!

Chipotle Lime Stickywings
Ingredients
For the chicken:
8 large chicken wings
1 to 2 tsp lime zest
Season each wing evenly with kosher salt, ground black pepper, chili powder, smoked paprika, and a little cayenne pepper (the amount for each is totally up to you)
3 scallions (optional)
For garnish, chopped cilantro and freshly squeezed lime juice
1 tbsp oil or non-stick cooking spray for the baking sheet
For the glaze:
¼ cup honey (or more)
¼ cup maple syrup (or more)
1 tsp lime zest
1 to 2 tsp lime juice
2 tbsp butter
1 tbsp brown sugar
1 chipotle pepper in adobo sauce, finely chopped, plus 1 teaspoon of adobo sauce
Season the glaze with cayenne pepper, black pepper, a pinch of salt, smoked paprika, onion powder, granulated garlic, cumin, and chili powder (I literally used 1-3 shakes each)
Kosher salt to sprinkle on top (optional)
Instructions
Preheat oven to 450. Line a large baking sheet with foil and spray evenly with non-stick cooking spray or brush 1 tablespoon of oil all over the bottom of the foil lined baking sheet.
For the glaze...
Combine all of the ingredients except the lime juice, into a small saucepan over medium heat. Bring to a soft, controlled simmer and allow to reduce for about 5 to 8 minutes, stirring frequently. Taste as you go, adjusting the seasoning as you see fit. Add the lime juice at the very end, and stir. Remove from heat, cover loosely, and set aside to keep warm while the chicken cooks. As the glaze sits, it will thicken and become stickier by the minute -- just a heads up.
For the chicken...
Rinse the chicken wings under cold water quickly, then pat each wing completely dry with paper towels. Season each chicken wing all over with kosher salt, black pepper, chili powder, smoked paprika, and a little cayenne pepper. If using the scallions, place them on the bottom of the greased foil-lined baking sheet. Arrange each wing flatter side up (see photo for reference) on top of the scallions, leaving at least 1-inch of space between each wing. If you arrange the wings too closely together, they will steam rather than crisp up. Sprinkle the lime zest over the top of each wing, evenly.
Place the chicken wings on the middle-lower oven rack and roast for 20 minutes. Remove from oven and brush 1 to 2 coats of the glaze glaze over each wing. Place the chicken wings back into the 450 degree oven for an additional 10 to 15 minutes. Keep an eye on these last 10 minutes, because depending on your oven, it can caramelize faster than you'd expect and burn. Allow the wings to rest and cool for 10 minutes, then brush with one more layer of glaze right before serving. Sprinkle just a tiny pinch of kosher salt over each glazed wing to help bring out the flavors.
Serve with lime wedges and garnish with chopped fresh cilantro.
Enjoy
Notes
If using "party wings" smaller than the regular parts of a whole chicken wing, reduce the cooking time by 5 to 10 minutes.
Disclaimer: Please note that some of the links on each post, recipe, and/or page may be affiliate links and I will earn commission if you make a purchase through those links, which helps support the site. You are under no obligation to purchase any products through any affiliate links posted here.