I made these waffles for my boyfriend on our anniversary, and I think it's safe to say he isn't going anywhere lol. They are absolutely divine. Grilled peaches adorn a tender, crisp, fluffy-yet-kinda-custardy waffle, followed by a sweet blueberry maple syrup that just seals the deal. Sign yourself up!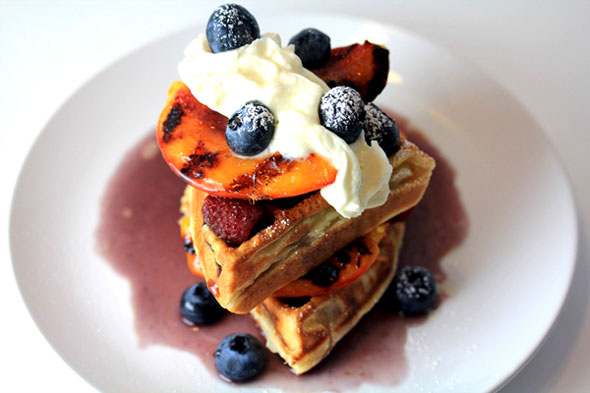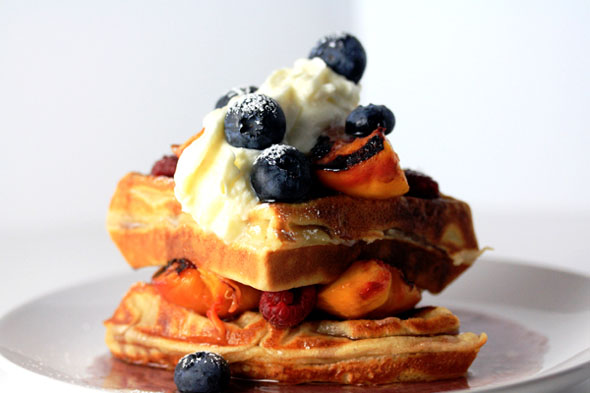 I know it's been a long time since I've posted a recipe, and I have valid reasons or that — but who cares about those. Let's just enjoy this, shall we? If you don't know anything about me, just know that I adore comfort food — food made with love. It just tastes better. Also know that I love breakfast/brunch. Lastly, know all about my love affair with waffles. They're sinful, delicious fluffy vehicles for butter, syrup and other goodies.
If you don't own a waffle iron, I suggest you get yourself one ASAP. They're awesome to have, and necessary for this recipe. If you don't have a belgian waffle maker, no big deal! Just use whatever kind of waffle iron you have. I don't think the waffle police are gonna come banging on your door, it's not that serious — just know you'll have more batter leftover. Oh, and can we talk about that blueberry maple syrup?? Listen, it's one of those things you'll find yourself making over and over, and with different berries. You can do this with raspberries, blackberries, you name it. It keeps well in the fridge for a while too. As far as grilling the peaches go, I used a grill-pan. I also left the skins on the peaches, but you can totally remove them if you'd like — it's up to you. Make sure your peaches aren't too mushy, they should be ripe yet firm. I garnished my finish plate with raspberries as well, just because I had them (and they're gorgeous and yummy). We smashed this plate, and then smashed each other later. Yeah, it's one of "those" dishes 😉

Waffles with Grilled Peaches & Blueberry Maple Syrup
Ingredients
For the waffles:
2 large eggs
2 cups milk
1 tsp vanilla extract
1 tsp maple extract (optional)
⅓ cup canola or vegetable oil
2 cups all purpose flour
1 tbsp baking powder
½ tsp salt
2 tbsp sugar
For the peaches:
4 ripe peaches, halved and pitted
1 tablespoon vegetable oil
1 tablespoon sugar
For the blueberry syrup:
1 cup of blueberries (fresh or frozen)
1 cup of pure grade-A maple syrup (do NOT use pancake syrup)
For the cinnamon-sugar butter:
1 stick unsalted butter, softened
1 teaspoon cinnamon
2 teaspoons sugar
pinch of salt
Instructions
Get your waffle iron nice and hot according to manufacturer's directions, while you prep the ingredients. Don't spray it with nonstick spray until you're ready to pour the batter.
Mash the softened butter with the cinnamon and sugar until well mixed. Place in the refrigerator to chill while you make everything else.
In a medium-sized saucepan over medium-high heat, bring the maple syrup and bluberries to a simmer. Reduce the heat to medium, and allow the berries to burst and extract their juices and infuse the syrup, about 10 minutes. The syrup will reduce slightly, and that's perfectly fine. Once the syrup has reached a dark, blue/purple tint, turn off the heat, cover and set aside. When the mixture cools slightly, strain the blueberries from the syrup and discard. You could also just leave them in there, it's up to you.
In either a bowl or blender, beat the eggs, milk, vanilla extract, maple extract, and oil until frothy (if you choose to mix by hand, use some muscle). In another bowl, stir all of the dry ingredients together until well combined. Make a well in the center of the dry ingredients, pour the wet mixture into the well, then stir just until the mix is moistened. Avoid over-mixing. Set aside and prepare your peaches.
Slice your peaches in half, and remove the pits. Lightly brush the inside of each halved peach with vegetable oil (1 tablespoon should be enough to brush on all 8 halves, but use your best judgement). Heat your grill-pan over medium-high heat, and place each peach, flesh-side down, onto the pan. Allow the peaches to heat thru and develop beautiful grill marks and are warmed thru -- about 5 to 6 minutes, depending on how hot your grill pan is. Set aside and tent with foil to keep warm.
Spray your waffle iron with nonstick spray, and spoon about ⅔ cup of batter onto a hot waffle maker and cook until golden brown.
Serve your waffles with the peaches, cinnamon sugar butter, blueberry syrup and enjoy.
[yumprint-recipe id='1′]
Disclaimer: Please note that some of the links on each post, recipe, and/or page may be affiliate links and I will earn commission if you make a purchase through those links, which helps support the site. You are under no obligation to purchase any products through any affiliate links posted here.