I've been using an incredibly incompetent food processor by Black & Decker for about 4 years now. It quickly went from good to bad, fast. I just figured I'd put up with it for as long as I could before I voted on a new one. Well, that time has come. I recently said "To hell with this raggedy ass food processor" after trying to do something as simple as creating pizza dough, and it couldn't even do that without stalling! I immediately began doing price research for the KitchenAid 750 12 Cup Food Processor — which is highly favored among many people in the culinary world that I trust. I've wanted this machine for a very long time, but it was also technically discontinued. Womp. However, the last few that are floating around are still going for $150 to $200 dollars. We're in a recession…I wanted this food processor, but I wasn't about to spend that much for it right now (although I knew it'd be worth it). I simply didn't have that kinda money set aside for a food processor, and this was an impulse buy lol. I needed this machine now and I needed it fast.
I scoured the internet looking for the lowest price, and I came across Buy.com. They had this baby for sale in red for $121. I said to myself, "Ok cool, I'll buy this first thing tomorrow". Well, needless to say "first thing tomorrow" indeed came, and this machine was sold out. Whaaaat…
Color me pissed off. If I wasn't so brown, you'd be able to see how red I was.
I wanted this machine in either red, black, chrome, or white…hell I would have taken blue or green…but I missed out. For shame.
Then I said to myself, "Check Ebay!". So I did, and I found this very machine for just $99!!!!!! I was excited. I was elated. I wanted to do backflips! I hit my dougie. I bodyrolled intensely. I finally found this food processor for the super low!
As quickly as I began to celebrate, I came down off my frugal high when I saw the fine print. I wiped the smile off my face when I saw that this machine was being sold for just $99, and in one color.
One dreadful color.
Pink.
Pink????????
You mean to tell me that if I want this amazing food processor at this amazing price, I have to buy it in pink?
Oh hell no…
I had a two-day conversation with myself as to whether or not I should buy this machine…in pink. Did I really want it badly enough to buy it in *gag* pink?? Why does it have to be in pink?? I hate pink. Well, I don't hate it, but it's definitely NOT a color I'd pick for kitchen appliances. Pink kitchen appliances just scream "I believe in fairytale marriages, The Easter Bunny, and I read everything Oprah tells me to read". I'm kidding lol. But seriously, pink appliances just aren't for me, no shade if you love them. If you love pink appliances, strut your stuff! Rock your pink toaster. I just personally despise the color in the kitchen.
What to do? I needed this machine — literally. I needed it for dinner lol. I had to have it and I knew I wouldn't find it online any time soon for this price. So I had to tuck my lady-balls, swallow my pride and buy this pink son of a bitch.
I officially refer to this ugly food processor as a "pink nightmare". I'll hopefully get over the color and the shady cause behind it, and just enjoy it for being so great and making me break all of my rules just to have it in my possession. I've never really caved like this before, I'm very much the "stick to my guns" type. But sometimes you have to know when to fold'em. I didn't hate myself in the morning, so maybe it's not as bad as I thought lol 😉
So without further ado, I present to you my brand new ugly necessity…The Pink Nightmare *applause*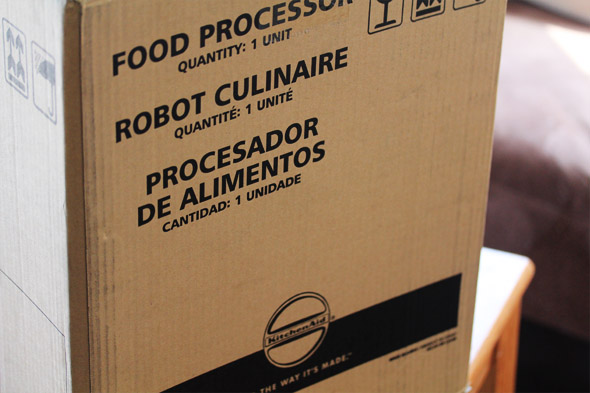 I can't lie, after I snapped this photo I prayed "Hopefully they've sent me a white one by accident"…I prayed hard as I sliced the tape away.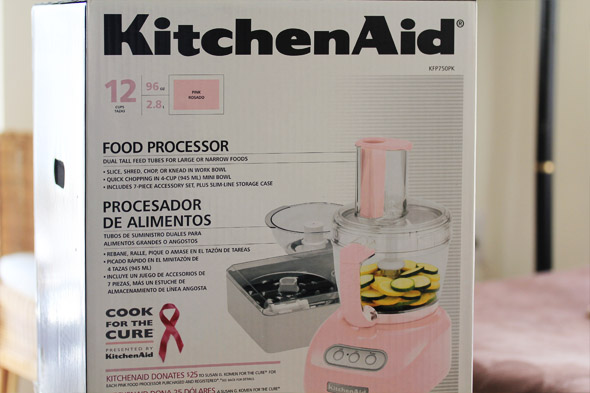 Prayers unanswered. Womp LOL! Then I said to myself, "Well maybe they accidentally put a white machine in a pink box".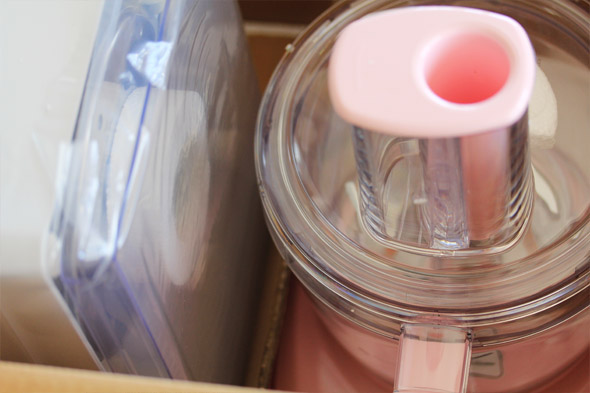 Damn! Prayers unanswered again LMAO!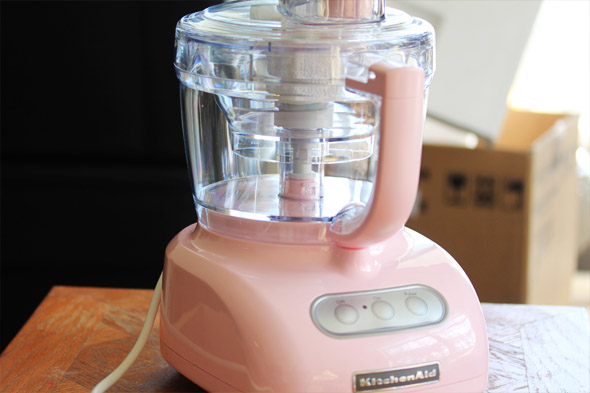 This mothersucker really is pink…well I'll be damned. It's kinda cute though. I immediately want ice cream when I look at it.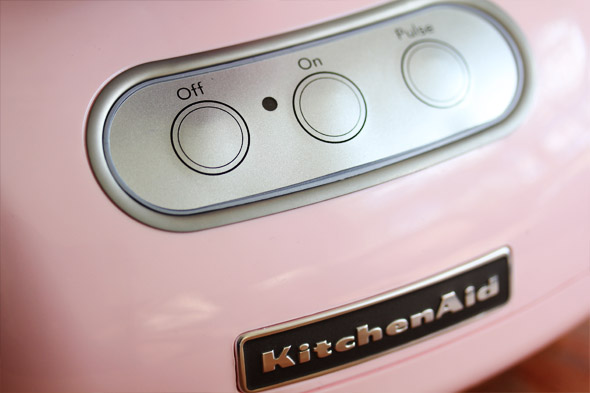 Kinda retro, yet goes with absolutely nothing in my kitchen. But guess what? I'm going to use the hell out of this machine with no shame.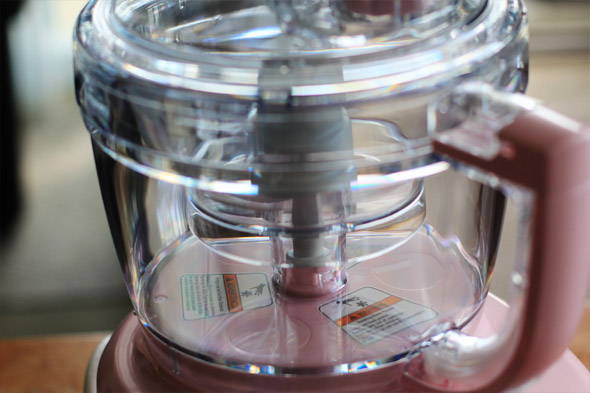 It's got a mini-4cup prep bowl for smaller jobs, a continuous feed tube that doesn't require you to chop food into smaller chunks like the newer version of this model. That was what really sold me on this machine. I didn't want to have to do any additional work, that's why I wanted a better food processor — to make my life easier lol.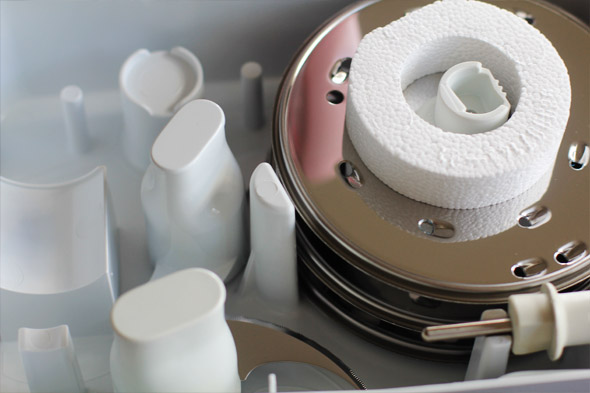 Then you get different shredding blades and dough blades and a case to keep them all in. Nice.
Despite my personal reservations about the color, this machine will bring me much joy in the kitchen and that's really all that matters. I may even grow to love my Pink Nightmare, I kinda already do 😉
*Just in case you're curious, the brand and model: KitchenAid KFP750ER 12 Cup Food Processor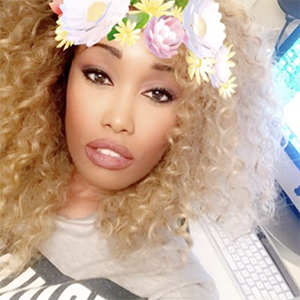 Chef Resha is an accomplished self-taught private chef, home cook, public figure, and recipe developer based in the DC Metro area. Creator and owner of CarnalDish — an incredibly delicious and renowned website full of sinful comfort food recipes made with love. CarnalDish has been featured on Good Morning Washington, Ebony magazine, Essence, Huffington Post, BuzzFeed, Newport, The Dr. Oz Show, and many more notable publications.