*cracks knuckles* This may be the most requested recipe ever. I kinda get why…not too many people hate macaroni and cheese. If you do, you might be a weirdo.
Macaroni and cheese is one of those dishes that seems super easy to make, but many people can't get it right. I've had so many terrible versions made by others…super soggy overcooked pasta, clumpy bland cheese, dry and flavorless…the list goes on. I didn't nail my own macaroni and cheese until maybe the 5th time I made it. It does take patience and practice, so don't get frustrated if you don't get it right the first time. It's totally worth the effort to make again and again. There are 3 distinct ways I prepare my macaroni and cheese. This is one of them. It's the classic "béchamel (cheese sauce) + pasta + more cheese + breadcrumb" method. You can find this method just about everywhere, and I got my inspiration from watching Emeril Live back in the day. I saw him do it this way and it's been my go-to method ever since, especially when I'm feeding more than 5 people. It's super easy to do, but a little intimidating if you're not used to cooking.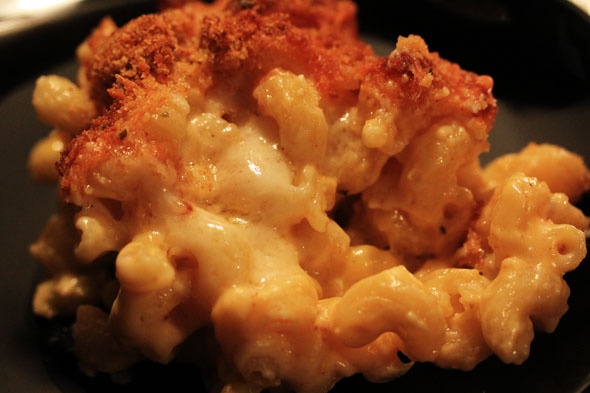 This isn't some waxy boxed mac-n-cheese, people. This is real cheese. From real cows and sheep. This isn't processed foolery. If you aren't used to real cheese, you probably won't appreciate the rusticity of this authentic bounty of cheesy goodness…ok? Are we clear? Because this is some real sh*t, but before I get into it, here are a few notes…
Preferred Pasta
I absolutely love using pasta with the ridges. Elbow macaroni rigate, penne rigate, and cavatappi pasta are my top go-to choices. They hold onto the cheese sauce better, and have openings big enough for that creamy cheese sauce to seep thru. You can use regular elbow macaroni, but try stepping outside the box once in a while 😉
Preferred Cheeses
My usual starting-5 cheeses are Cheddar (any variety), Gruyere, Parmigiano-Reggiano, Pecorino Romano, and Fontina. Those are my favorite cheeses because they all compliment each other extremely well, and melt together into this harmonious concoction of pure dairy lust. I love adding the Parmigiano-Reggiano and Pecorino-Romano to the béchamel sauce as a flavorful and slightly salty base, then tossing in the other cheeses with the coated pasta to be baked off. Sometimes I only use cheddar and smoked gouda, another delicious pair — especially during BBQ season. Smoked gouda isn't very creamy on it's own, so it absolutely needs to be paired with something and cheddar is always a great choice. Sometimes I only use fontina and gruyere — it really depends on what I'm craving. Colby-jack is another great cheese, but if you want dramatic stringy cheese action, try whole milk mozzarella, monterey-jack, provolone, etc. I encourage you to try different cheeses until you find a blend that best suits your ultimate mac-n-cheese experience.
Bland mac-n-cheese is a no-no!
Seasoning, where art thou? No matter what cheese you use, it needs a bit of help with some seasoning. Some cheese are very salty on their own, but that's about it. You really wanna think about the flavors that compliment cheese overall, and try to apply that to your mac-n-cheese dish. For example, when you order a pizza…the cheese tastes amazing with all of those contrasting flavors — onions, herbs, etc. I love adding shallots, garlic and bacon to a mac-n-cheese dish for a whole 'nother level of cheesy epicness. You can really get creative and add crushed up onion rings to the top for a sweet oniony crunch on top…man, I'm telling you…mac-n-cheese can take on just about any flavor. Some folks throw in roasted tomatoes, or mushrooms and onions, Italian sausage, or spinach. Open your mind and your palate will thank you. My seasonings of choice are usually black or white pepper, kosher or sea salt, cayenne pepper, onion powder, granulated garlic, a tiny bit of nutmeg and sometimes dry mustard. I like to season the béchamel itself before adding the cheese — just go easy on the salt because cheese is already pretty salty. Once I toss everything together, I taste it again and adjust the seasoning as I need to. Taste as you go, and season every layer!
A note about REAL cheese
Cheese give off oils when heated, so if you try to re-heat you may get some serious separation. That's honestly because when reheating, you're just further drying it out — especially if reheated in the microwave. However, reheating in the oven doesn't necessarily give you better results either. This is why a béchamel sauce helps. The flour proteins help bind things together. It doesn't prevent separation 100%, but it does help a lot by absorbing some of those oils all while staying creamy and reheating better. Whenever I'm making mac-n-cheese that I know will be consumed in a day, I'll use half & half, or when I'm feeling super naughty — heavy cream (which is pure fat-assery, but you'd use less than half the regular amount and no roux). Half & half is basically half milk, half heavy cream, so you get the best of both worlds. If using only milk, you'll still have an amazing dish! I suggest starting with milk first, if you're new to this 😉
Breadcrumb topping?
Totally optional, however, I love the crunch of Italian bread crumbs on top of my mac-n-cheese. It creates a crusty barrier full of flavor that cannot be described. You can use fresh homemade bread crumbs, which I only do if I have white bread laying around — which isn't often. Any variation is bound to be delicious. I almost always have Italian breadcrumbs on hand, so I mostly use that. Sometimes I'll add panko (Japanese breadcrumbs) to the mix for an even bigger crunch, depends on how I'm feeling. You don't have to add breadcrumbs on top of your mac-n-cheese, but I promise you it's delicious and it even helps keep the top layer of your dish from browning too quickly or burning. The breadcrumb barrier also keeps the entire dish moist, so you don't have to worry about it drying out. The oils from the cheese seep up to the top and help toast the breadcrumbs perfectly. It's amazeballs, y'all.
The more you make this, the more you'll be able to gauge just how much of everything to use. I never measure when making this dish, I can just visually "eyeball" everything, but I've also been making it for years lol.
*The following photos were snapped at different times, but the method is generally the same…

VIDEO snippet of how I make the white sauce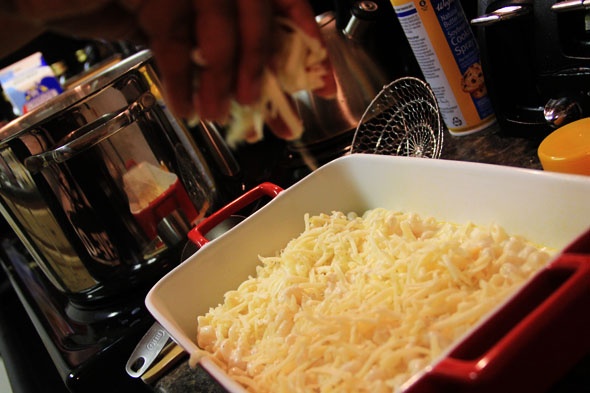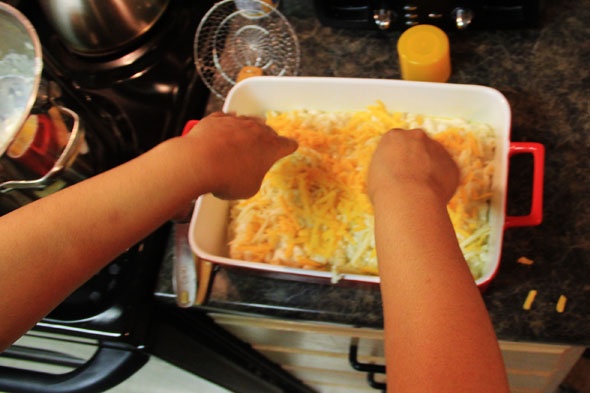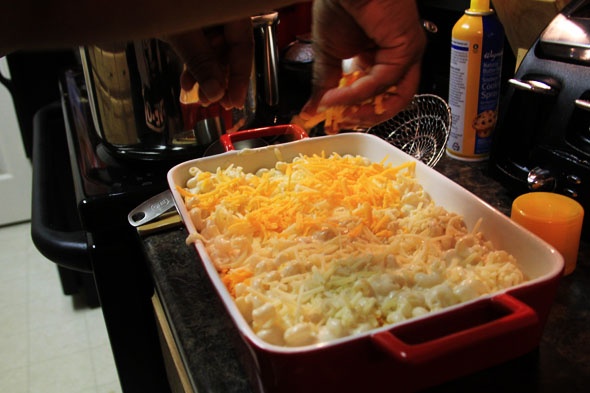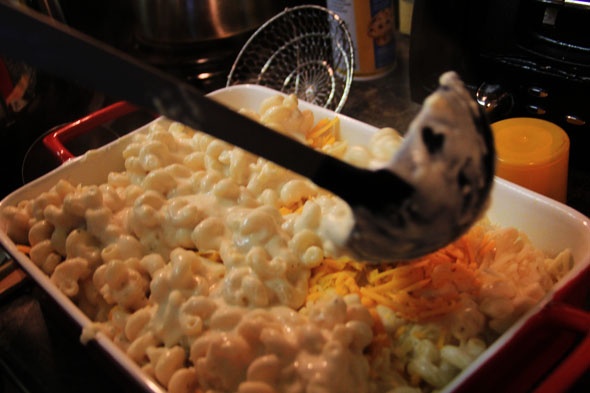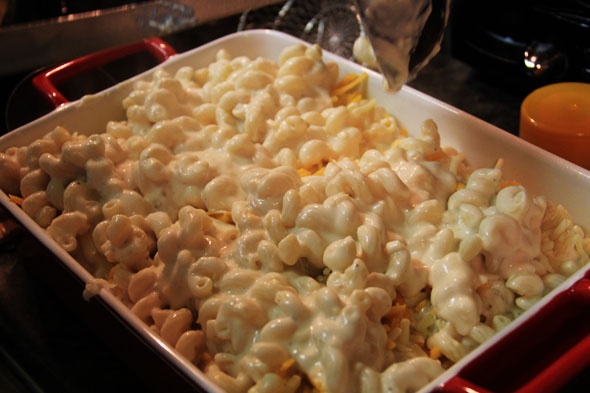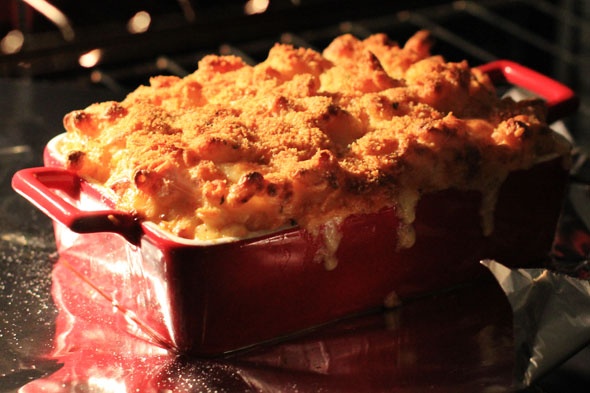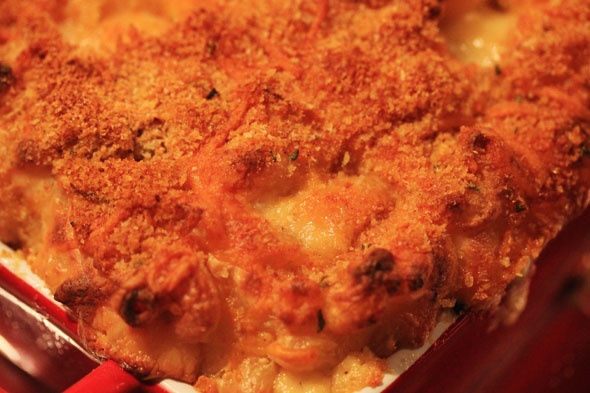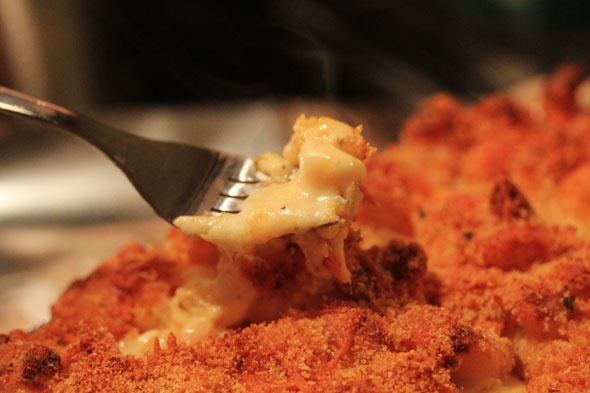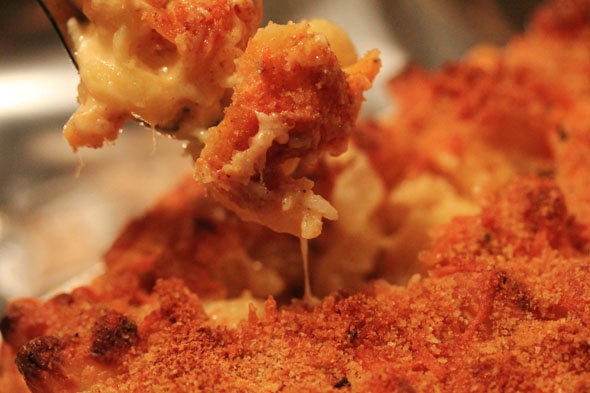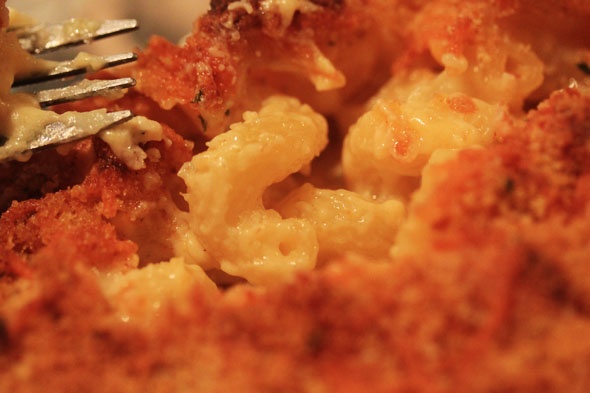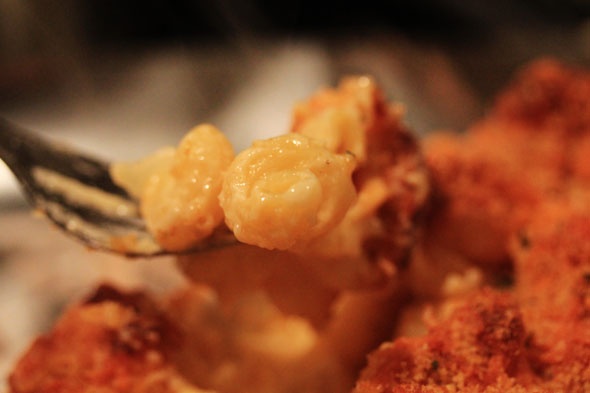 Oh man…all I can do is shake my head…
Print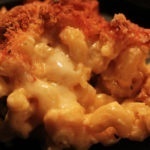 Baked Macaroni & Cheese
---
Author:

CarnalDish

Prep Time:

20 mins

Cook Time:

1 hour 20 mins

Total Time:

1 hour 40 mins

Yield:

10
---
---
Recipe Card powered by
Disclosure
: This site uses various affiliate links. If a purchase is made using one of our affiliate links, we receive a small commission which helps support our efforts. You are under no obligation to make a purchase, but you're
greatly
appreciated if you do. Please read our
Privacy Policy
for more information.