As promised, here's the second chocolate-for-breakfast variation…waffles! Waffles are heavenly creations, with pockets for butter…and syrup. YAAAAS!
This recipe is very similar to the previous Double Chocolate Pancakes, but slightly remixed to suit the needs of a waffle. This recipe makes 4 belgian-sized waffles, and if you don't have 4 mouths to feed, simply freeze the cooked waffles and reheat later. I used Dutch-processed cocoa with this particular recipe, but if you don't have dutch-processed, you could use regular unsweetened cocoa powder and add 1/8 tsp baking soda to the recipe.
Top with whatever your jolly heart desires — it'd be great with whipped cream, or strawberries and blueberries, and your favorite toasted nut 🙂 Go crazy.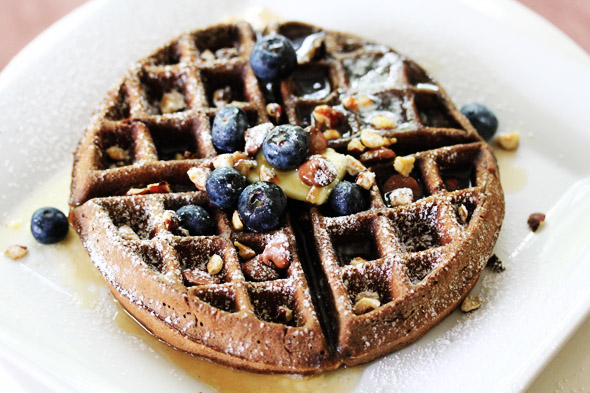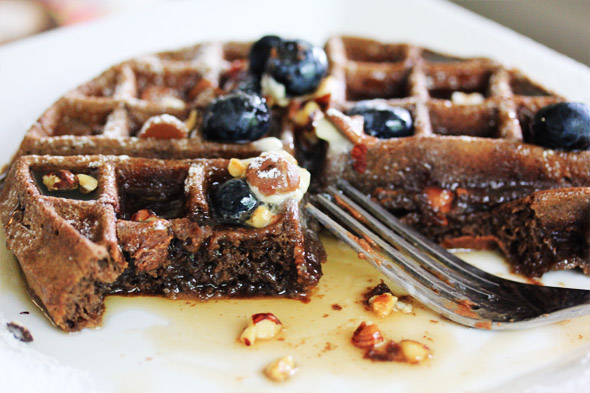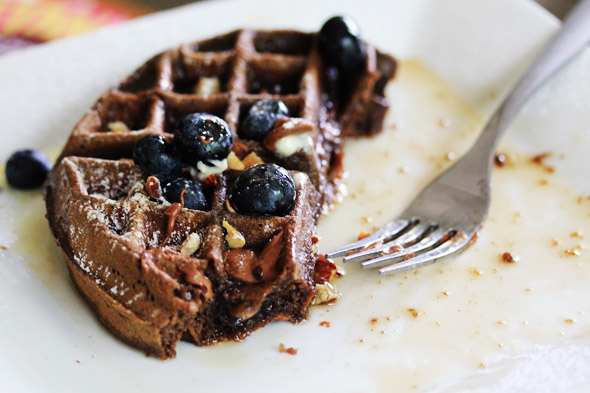 Decadence!

Double Chocolate Waffles
copyright CarnalDish
Author:
Resha from CarnalDish
Ingredients
2 large eggs
2 cups milk
1 tsp vanilla extract
⅓ cup vegetable oil
2 cups all purpose flour
⅔ cup chocolate chips
3 tbsp Dutch-process cocoa powder (see note below)
3 tsp espresso powder (optional)
1 tbsp baking powder
¾ tsp salt
4 tbsp sugar
Instructions
In a blender, beat the eggs, milk, vanilla and oil until frothy.
In a large bowl, stir all of the dry ingredients plus the chocolate chips together until well mixed. Make a well in the center of the dry ingredients, pour the wet mixture into the well, then stir just until the mix is moistened. Avoid over-mixing.
Spray your waffle iron with nonstick spray, and spoon batter (make sure to get any sunken chips from the bottom) onto a hot waffle maker and cook until golden brown.
Serve with butter, syrup, additional chocolate chips, fresh fruit or berries (go crazy!)
Notes
If you don't have Dutch-processed cocoa powder, you can use 3 tablespoons of regular unsweetened cocoa powder, but add ⅛ tsp baking soda to the recipe as well.