Vanilla is everything. Vanilla just makes everything better. That gentle, yet decadent aroma just invades my nostrils and senses and makes me feel like kissing someone. The sweetest most aromatic scent ever. I even have a lot of vanilla-based perfumes. I can't get enough of the stuff, it's a problem. I know I sound like I'm describing some super hot guy and you're probably thinking "She oughtta get laid already", but y'all just don't understand how much I adore all things vanilla.
Adapted with a few minor changes from Brown Eyed Baker, this yields a fabulous recipe. The cupcakes are light yet moist, and the vanilla flavor is so intense and rich. I made these for my coworkers and they all said it was the best cupcake they've ever had. They weren't just being nice, trust me. I didn't even tell them I baked them because I wanted an honest, unbiased reaction…when they later found out I had baked them, they were like "Holy Lord! They were so amazing!". Yup, I did that 😉
Yea, they aren't lyin..these are bomb.
I buy my vanilla beans from Amazon, and I get about 55 to 75 beans for under $30. They are rich, fat, juicy Bourbon-Madagascar beans, and they are so effing delicious. You could possibly buy your vanilla beans from the grocery store, but be prepared to drop a good $12 on just two beans…
If you are a vanilla fan, you're gonna love these babies.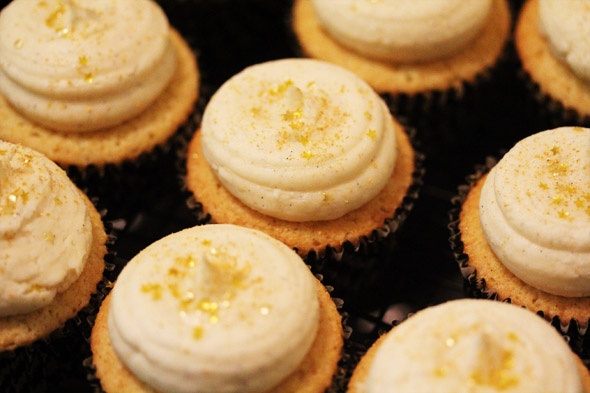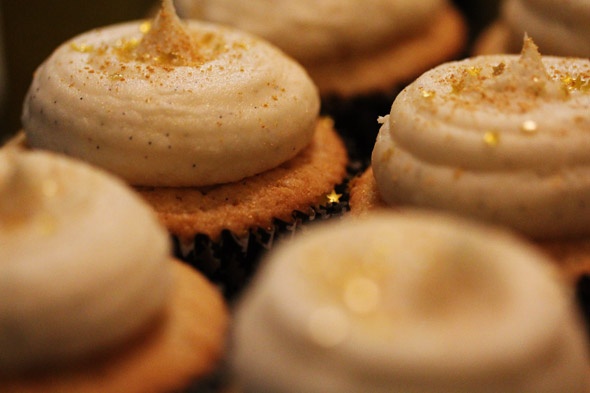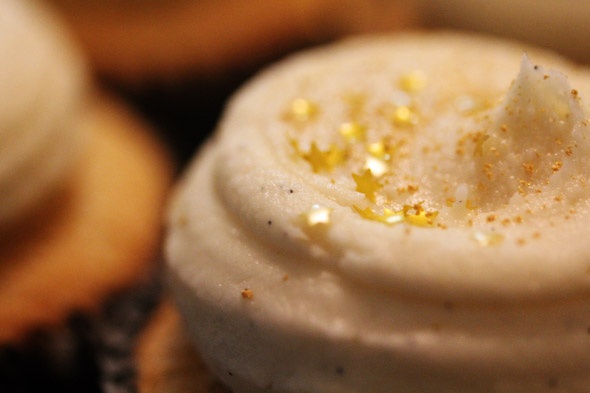 Vicious Vanilla Bean Cupcakes
Ingredients
1 ½ cups all-purpose flour
1 cup granulated sugar
1 ½ tsp baking powder
½ tsp table salt
1 stick unsalted butter (room temperature)
½ cup sour cream
1 large egg (room temperature)
2 large egg yolks (room temperature)
1 ½ teaspoons vanilla extract
1 vanilla bean
Instructions
Heat oven to 350 degrees F. Line standard muffin/cupcake tin with paper or foil liners.
Sift together flour, sugar, baking powder, and salt in bowl of standing mixer fitted with paddle attachment. Quickly and on the lowest speed, mix around to make sure everything is evenly distributed.
Add softened butter, sour cream, egg and egg yolks, vanilla and vanilla bean caviar (split the vanilla bean down the middle with a sharp knife, use the back of the knife to scrape the yummy beans out); on medium speed (start w/ the slowest first or the flour will fly) beat for about 30 seconds or until mixed together. Scrape down sides of bowl with rubber spatula and mix by hand until smooth and no flour pockets remain.
Divide the batter evenly in the little paper or tin cupcake liners. I used a 3tbsp cookie scoop for a perfect measurement. Place on the middle oven rack and bake for about 20 minutes (no longer than 24) or until lightly golden or toothpick comes out clean. I actually baked mine for about 18 minutes before removing from oven, and they were perfect.
Remove the cupcakes from cupcake pan and cool at room temperature.
Frost them and try not to cry. They're even better the next day, which is wonderfully insane!
Vanilla Bean Buttercream
Incredible.
Serves:
enough to frost 12 cupcakes
Ingredients
2 sticks unsalted butter (room temperature)
2 ½ to 3 cups powdered sugar
2 tbsp heavy cream
1 tablespoon vanilla extract
1 vanilla bean
tiny pinch of salt
Instructions
In a food processor, pulse the butter until creamy and smoothed out — about 5 quick pulses.
Add 1 ½ cups of the powdered sugar and pulse for about 5-10 seconds.
Add the remaining sugar, pulsing for another 5-10 seconds.
Add vanilla extract and pulse.
Slowly drizzle in 2 tbsp of heavy cream while pulsing. You don't want it runny, you just want it smooth and thick enough to hold up.
Taste it.
Add the tiny pinch of salt and add the delicious scrapings from 1 vanilla bean and pulse until evenly distributed — about 10 seconds.
Either spread the frosting onto the cupcakes with an off-set spatula or use a piping bag.
**If you don't have a food processor, you can do this by hand with an electric hand mixer or a whisk, but make sure you sift the powdered sugar first. No need to sift if you're using a food processor though.
Disclaimer: Please note that some of the links on each post, recipe, and/or page may be affiliate links and I will earn commission if you make a purchase through those links, which helps support the site. You are under no obligation to purchase any products through any affiliate links posted here.