I honestly have no words for how insanely good this is. I just need you to stop whatever it is you're doing and make this right away. It. Is. AMAZING! Fully adaptable, easily doubled, just damn good. The way that garlicky white wine butter sauce soaks into the grits, oh girl..please come get your life!
Polenta is notorious for taking a long ass time to cook. Not anymore. We can achieve creamy, tender and deliciously flavored polenta in less than 20 minutes. How? Well, we're gonna add a little acid to help break down the outer husk of each coarse grain, making it softer and faster cooking. Science is a beautiful thing, isn't it? If you're using regular 5-min grits, you don't need the baking soda. That variety is already designed to cook quickly.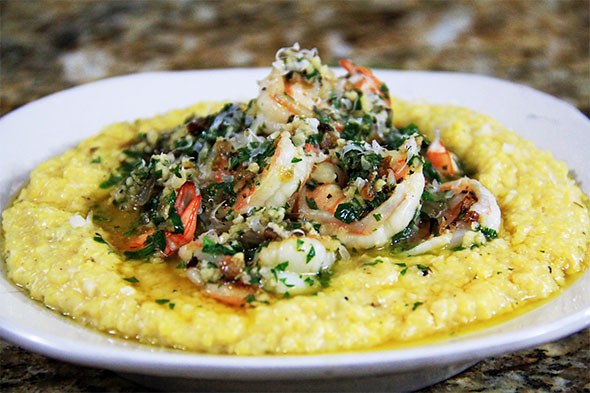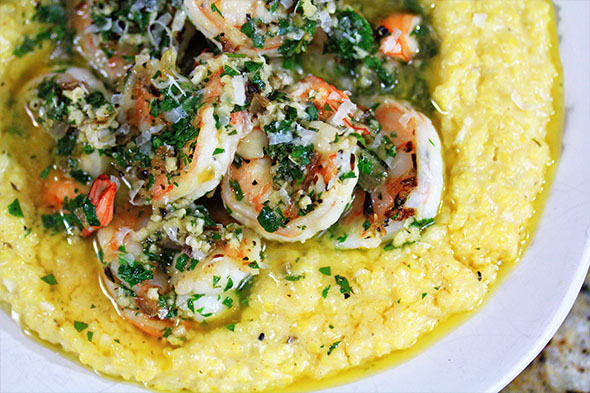 This recipe is extremely flexible, so check the notes below. There's a ton of garlic in this recipe but it cooks down so that it's nice and mild, not harsh and aggressive. Every damn thing about this is perfection.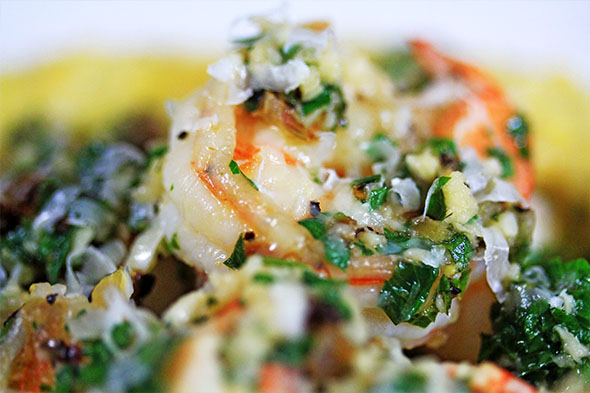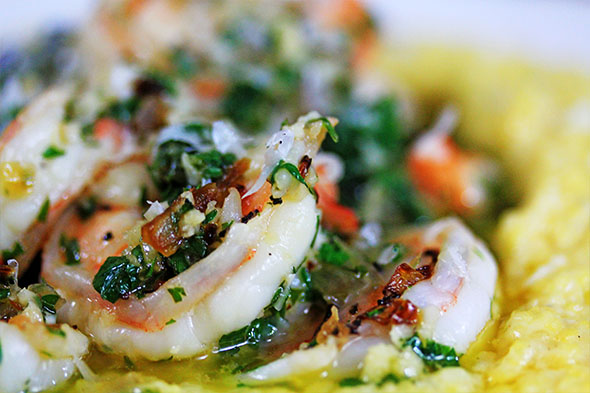 Holy mother..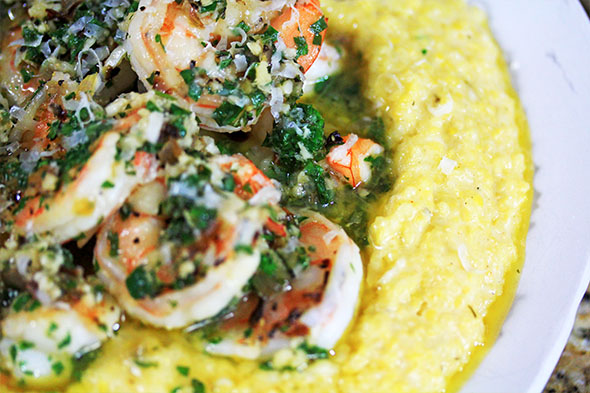 Listen, this recipe is serious. Seriously easy, and seriously delicious. The ONLY way you can screw this up, is you use a ratio of grits to cooking liquid than I told you, and if you overcook your shrimp.
Garlicky Shrimp Scampi and Creamy Parmesan Grits
Please see video for cooking instructions. Notes are below.
Author:
Resha from CarnalDish
Serves:
2 small servings or 1 large serving
Ingredients
For the grits:
¼ cup heavy cream or half & half
2 cloves fresh garlic, minced
½ tsp granulated garlic
½ tsp granulated onion
¼ tsp paprika
pinch of cayenne
¼ tsp or so poultry seasoning
tiny pinch of baking soda (see note below)
3 tbsp unsalted butter
½ cup polenta grits, not instant (see note below)
2¾ cup chicken stock (see note below)
¼ cup parmigiano-reggiano cheese, finely grated
For the shrimp:
*I'm giving you measurements based on what I used in the video. This is enough sauce for a full pound of shrimp. Only double this if you're using more than one pound*
½ - 1 lb peeled/deveined extra large shrimp (21/25 count), thawed
1 tbsp sugar
1 tbsp Kosher or sea salt
*water for brine
Kosher or sea salt & pepper to taste
Olive oil
½ tsp crushed red pepper flakes
¼ cup shallots, finely chopped
2 tbsp fresh garlic, minced
2-3 tbsp unsalted butter, cold
⅓ cup white wine (I used Chardonnay)
juice from half a lemon
3 tbsp to ¼ cup fresh parsley, finely chopped
Instructions
Please see video above for cooking instructions. You can use as much or as little shrimp as you'd like. This recipe is enough for 1 large portion, or 2 smaller portions. See note below on how to double the grits for perfect results every time.
Notes for the grits:
Bring seasoned cooking liquid to full boil, add grits, reduce heat to low, and whisk for 1 full minute. Cover and stir every 3 to 4 minutes until the grits are fully cooked, softened. Heat should remain on low during the entire cooking process. Keep the grits covered while they cook. Once they're done, add your cheese, stir and adjust seasoning. Cover and keep warm while you make the shrimp.
This recipe can be used with regular 5-minute grits. If you use those, don't add the baking soda. The baking soda works better with polenta because it's a coarser grain. It takes a long time to cook, so the acid from the baking soda breaks it down faster so that they cook in less time. You will not taste the baking soda.
You can use any liquid you prefer to cook the grits. Just make sure whatever you do, you use ¼ cup of grits to 1 cup of liquid. You'll get perfectly cooked, creamy grits every time.
Notes for the shrimp:
Cook everything over medium heat. Add the red pepper flake to the hot oil so that it infuses, sauté your shallots for about 2 minutes. Add the shrimp, and cook for 1 minute on each side. Add the garlic and butter, lemon juice and wine. Cook an additional minute or two. Toss with parsley and enjoy.
If you're using shrimp smaller than extra-large, you'll need to adjust the cooking time. They will take less time to cook, so plan accordingly. For this recipe I'm using 21/25 count, which means that there are about 21 to 25 shrimp per pound. I purchase my frozen shrimp from Costco because they don't use any unnecessary ingredients. It's just shrimp and salt. Frozen wild shrimp would be even better here. If you use frozen wild shrimp, you won't need to brine them at all.
The sugar/salt brine helps to plumpen the shrimp so that they pop in your mouth. They only need to brine for about 20 minutes. Make your grits while they're brining -- time management!
As you're cooking, add additional olive oil as necessary.
Make sure your butter is cold, it will melt slowly and emulsify this sauce, making it nice and thick and substantial.
If you don't like grits, you can pour this greatness over some pasta, rice, thick toasty bread -- whatever your heart desires.
Enjoy!
Disclaimer: Please note that some of the links on each post, recipe, and/or page may be affiliate links and I will earn commission if you make a purchase through those links, which helps support the site. You are under no obligation to purchase any products through any affiliate links posted here.