You guys know I have a copycat Cheddar Bay Biscuit recipe already, and it's really yummy — but it's not entirely from scratch. Still great, but if you want an all-scratch completely homemade version, then you are in luck. This version really punches up the garlic and herb flavor, which I think makes these biscuits so special. It also enhances the cheese. I would use an extra-sharp cheddar for this, or even just a regular sharp. Mild would work but it wouldn't have as strong a cheese flavor. As always though, they're your biscuits — you do whatever the hell you want.
You can thank Beyonce for inspiring me to do this elevated version. She's one of my favorite musical unicorns ever. This recipe will keep bae in line and eating out the palm of your hand. It's so delicious. Fresh ingredients are a must. Don't use pre-bagged cheese — shred it yourself. Don't use jarred minced garlic — mince it yourself. We're using fresh parsley and dried basil, as well as a few other pantry staples. Keep your buttermilk and butter cold at all times. Keep the cheese cold. Keep everything cold!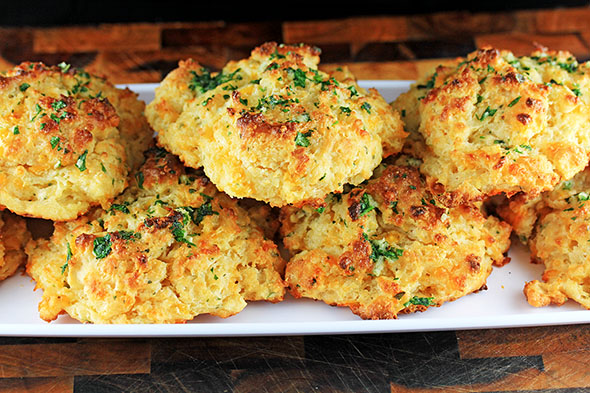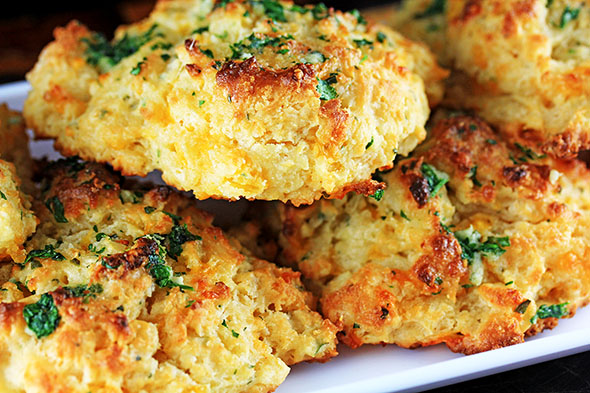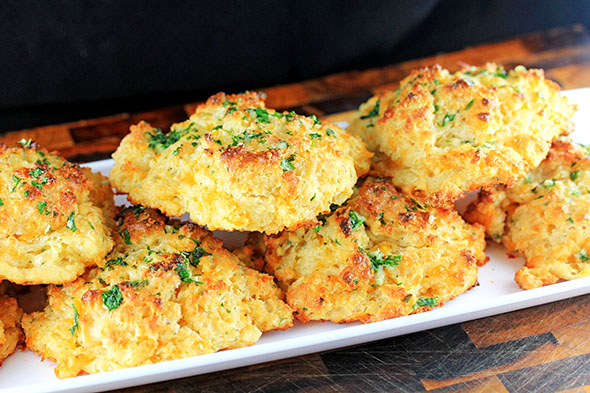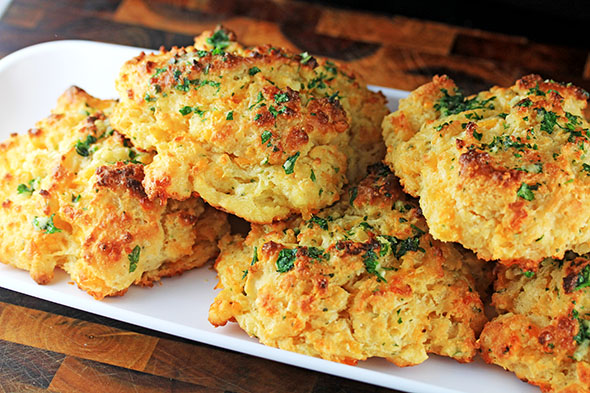 Don't overthink this dough. It's very easy to adjust. If after mixing thoroughly, it's still dry? Add a little more buttermilk. Too wet? Add a lil more flour. The dough should be sticky and moist, but it shouldn't be so mushy it can't be formed into a drop biscuit. After you grate your cheese yourself (don't use bagged cheese, it doesn't melt as well), make sure you use a pastry cutter or a food processor or just two knives to get it into smaller pieces if your cheese grater gives you long shards. Not a huge deal if you skip that whole step, but it'll just help it blend better and bake a little prettier. Still, not a total deal-breaker.
Well, I'm going to dedicate this recipe to Beyonce for slaying my whole entire life and giving me another reason to be proud of who I am in a world where being me is so frowned upon. Thank you, Beyonce. However, when he hit's it good I'll just take his ass to the kitchen, because Red Lobster is a no for us lol. Love you anyway!
Garlic & Herb Cheddar "Bae" Biscuits
This is based off my original Flaky Buttermilk Biscuit recipe.
Author:
Resha from CarnalDish
Ingredients
For the wet mixture
¾ cup COLD buttermilk (full-fat)
¼ cup COLD heavy cream
2 tbsp sour cream (optional)
1 large egg
1 tbsp honey
2 cloves garlic, minced
2 tbsp parsley, chopped
1 tbsp dried basil
¼ tsp granulated garlic
¼ tsp granulated onion
pinch hot paprika (or regular/sweet)
For the dry mixture
2¼ cup all-purpose flour
1½ tsp salt
2½ tsp baking powder
½ tsp granulated onion
½ tsp granulated garlic
1 stick FROZEN unsalted butter, grated
1 cup extra-sharp cheddar cheese, grated
For the garlic & herb butter
½ stick butter, melted and still warm
pinch of salt
1 tbsp parsley, chopped
1 clove garlic, minced
pinch of granulated garlic and granulated onion
Instructions
Pre-heat oven to 400 degrees.
Combine all wet ingredients. Keep COLD.
Combine all dry ingredients. Keep COLD.
Combine both wet and dry ingredients until dough forms. Dough should be slightly wet and sticky but stiff enough to hold a peak. Pop dough into the freezer for about 5 minutes.
Remove from freezer, and drop biscuits using 2 spoons onto a silpat or parchment lined baking sheet. This dough will make 8 large or 12 regular sized biscuits.
Bake until golden brown on middle-rack for 12-15 minutes.
Brush immediately with warm garlic & herb butter.
Get your life.
Disclaimer: Please note that some of the links on each post, recipe, and/or page may be affiliate links and I will earn commission if you make a purchase through those links, which helps support the site. You are under no obligation to purchase any products through any affiliate links posted here.