Shrimp & Parmesan Grits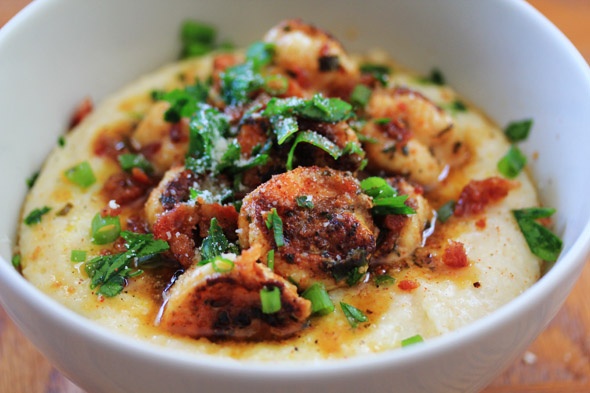 Author:
Resha from CarnalDish
6 to 8 regular sized shrimp, peeled and deveined and chilled
1 to 2 strips of bacon
about 1 tsp [pan searing flour|http://www.wegmans.com/webapp/wcs/stores/servlet/ProductDisplay?productId=359393&storeId=10052&langId=-1] (reg. flour will also work)
1 heaping tbsp shallot, chopped
1 heaping tbsp green onion, chopped
1 clove garlic, chopped
2 tbsp butter
½ lemon, juiced
1 tbsp good extra virgin olive oil
1 tsp dried parsley
chili powder to taste
granulated garlic (or garlic powder) to taste
onion powder to taste
lemon pepper seasoning to taste
cayenne pepper to taste
Old Bay seasoning to taste
kosher salt to taste
freshly ground black pepper to taste
1 cup water
3 tbsp heavy cream
3 to 4 heaping tbsp quick grits (the 5 minute kind)
4 tbsp butter
½ tsp kosher salt
¼ tsp freshly ground black pepper
¼ cup grated parmigiano-reggiano
Dash of: granulated garlic (or garlic powder), cayenne pepper, onion powder, Old Bay seasoning, lemon-pepper seasoning
In a small saucepan, add 1 cup of water and bring to a boil.
While water is heating up, add the salt, remaining seasoning and half (2 tbsp) of the butter.
Once water stars to boil, add your grits and immediately reduce heat to medium-low.
Stir to make sure grits aren't clumped together.
Allow grits to cook for about 3 to 5 minutes, covered.
After 5 minutes, stir and reduce heat to low.
Grits will thicken quickly, but they still need a while to cook so that they aren't grainy.
Keep grits covered while cooking and stir every 3 to 5 minutes to check consistency.
After about 15 minutes of total cooking time, give them a taste and season accordingly if need be.
Add the heavy cream and remaining butter, and allow to cook an additional another 10 minutes over low heat.
Add the cheese, stir and remove from heat.
Keep the grits covered until ready to serve.
Season your shrimp. I didn't measure the seasoning originally, so just eyeball this and use however much or little you'd like. When in doubt, use a little less than half of a teaspoon of each seasoning. Toss shrimp with flour and set aside.
In a medium skillet, fry the bacon until crispy. Drain and set aside.
Pour the bacon grease out, but leave the tasty bits stuck on the bottom of the pan.
Bring the skillet back to the stove.
Reduce the heat to medium. Drizzle a tiny bit of extra virgin olive oil into the pan with 1 tbsp of the butter. Let that melt together, then add the chopped shallot. Allow that to cook for about 5 minutes, stirring around to prevent it from burning.
Shake off any residual flour from each piece of shrimp and add to the pan on it's side, allow shrimp to cook until pink on each side -- about 2 to 3 minutes over medium-low heat.
Flip shrimp to cook on other side. While it's cooking, add the green onion, the remaining tablespoon of butter and the lemon juice. Do not overcook the shrimp, they will come out tough and rubbery and ruin the dish.
A delicious buttery, lemony sauce has developed, and you're so excited right now.
Compose yourself, stir everything around and pour on top of your creamy parmesan grits. Aww yea, it's coming together!
Either chop or crumble up the slice of bacon, serve immediately, and enjoy you orgasm.