Orange-Henny BBQ Wings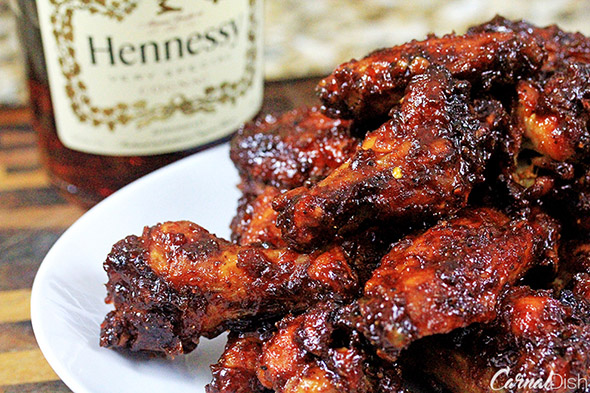 Author:
Resha from CarnalDish
3 to 5 lbs chicken wings
3 tbsp baking powder (aluminum free)
1 tsp sweet paprika
1 tsp smoked paprika
½ - 1 tsp cayenne
1 tbsp kosher salt
1 tsp black pepper
1 tbsp granulated garlic (not garlic salt!)
1 tbsp granulated onion
1 12oz. bottle Chili Sauce (or ketchup)
2 tbsp mustard (creole, brown, dijon, or yellow)
2 cloves garlic, minced
½ small yellow or sweet onion, finely chopped (about ½ cup)
¾ cup Hennessy
¼ - ½ cup orange juice
⅓ cup orange marmalade
½-3/4 cup brown sugar
½ - 1 tsp crushed red pepper flakes
¼ cup honey
¼ cup apple cider vinegar
2 tbsp soy sauce
1 tsp smoked paprika
few dashes of worcestershire
few dashes of liquid smoke (optional)
granulated garlic, to taste
granulated onion, to taste
black pepper, to taste
pre-heat your oven to 425 degrees. mix all of the dry ingredients together until combined, sprinkle over the chicken until coated. you may or may not need all of this mixture, just make sure each piece is covered nicely. Bake the chicken for 20 minutes. Flip the chicken over and bake an additional 20 minutes. Flip one last time and bake for 10-15 minutes or until completely crispy. Toss with the Orange-Henny BBQ Sauce.
Put everything in a pot over medium/medium-low heat, bring to a simmer, stirring occasionally. Once sauce has reduced and thickened (should take about 20-30 minutes), turn off the heat and hit it with one final splash of Henny (about 1oz). Store leftover sauce in an air-tight container and use it for something else. Will keep for a week.