Shakshuka with Sausage and Cheese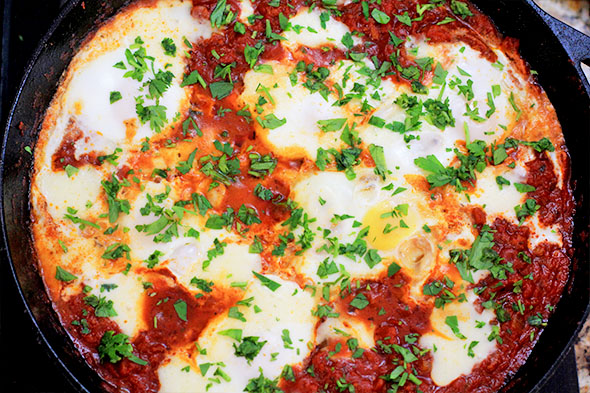 Author:
Resha from CarnalDish
Olive oil
1 large onion, diced
2tsp - 1tbsp smoked paprika
2tsp - 1tbsp hot or mild paprika
2tsp - 1tbsp cumin
1 - 2tsp crushed red pepper flakes (add more if you want it hotter)
1 - 2tsp cayenne pepper
Kosher salt & black pepper, to taste
3 roasted red peppers, chopped
2 - 3 cloves garlic, minced or chopped
2 or more sausage links, casing removed (optional)
1tsp dried parsley
2tsp dried cilantro
Granulated garlic, to taste
Granulated onion, to taste
2tbsp tomato paste
1 28oz. can crushed tomatoes
pinch sugar, to taste
4 to 8 large eggs
¼cup or more cheese (mozzarella, cheddar, feta, goat, or whatever you want)
fresh parsley or cilantro to garnish
Heat olive oil in a large cast iron skillet over medium-heat.
Add onion, paprika(s), cumin, crushed red pepper flakes, and cayenne pepper. Stir around until incorporated. Add a big pinch of black pepper, and a good generous pinch of kosher salt and stir until thoroughly incorporated. Add roasted red peppers, and garlic. If using sausage, add it now and break it down with the back of a wooden spatula or spoon until finely crumbled. Toss in the dried parsley, dried cilantro, granulated garlic and granulated onion. Add the tomato paste and mix thoroughly, cooking it out for 1 to 2 minutes.
Add the crushed tomatoes and mix everything until combined. Add a pinch of sugar, cover and reduce the heat to low. Simmer for 15-30 minutes until most of the "watery" tomato liquid is evaporated. You want a somewhat thick sauce that will hold up. Give it a taste and adjust as necessary. It should be flavorful, and spicy.
With the heat still on low, make wells into the sauce for the eggs to sit. Gently pour each egg into a well, careful not to break the yolk -- but if you do, nobody really cares.
Add the cheese of your choice evenly to the surface, even into the eggs. Raise the heat to medium-low, cover and allow the eggs to cook to your desired doneness. This can take anywhere from 5-10 minutes. If you like your eggs a little runny, make sure you remove the pan from heat a few minutes before they reach that point because they will continue to cook in the residual heat.
Once you're happy with the doneness of the eggs, remove the pan from heat. Add fresh parsley or cilantro and serve immediately with some good crusty bread.
Hold onto your pants!
This is not an "exact measurement" recipe. You an use as much or as little of each ingredient you want. Please don't be afraid to flex your culinary muscle and go with the flow here.
Recipe by
CarnalDish
at http://carnaldish.com/recipes/breakfast/shakshuka-eggs-in-purgatory/