Oven-Fried Chicken Sliders with Roasted Red Pepper Aioli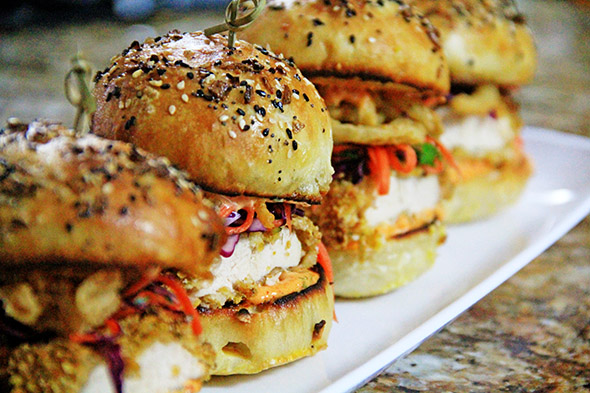 Author:
Resha from CarnalDish
6 regular sized chicken tenderloins
¾ cup apple cider
¾ cup buttermilk
season chicken with kosher salt, black pepper, herbes de provence, granulated garlic & onion, and smoked paprika
to bread the chicken:
40% seasoned panko bread crumbs
2 eggs, beaten
1 cup all-purpose flour
60% plain corn flakes, crushed finely
1 jarred roasted red pepper
2 cloves garlic, chopped
½ cup mayo
3 tbsp red onion, finely chopped
season with a pinch of kosher salt, smoked paprika, cayenne
cilantro, finely chopped
1 medium onion (yellow, white, or red), thinly sliced
1 cup buttermilk, or enough to cover it in a bowl
1 cup flour + 2 tbsp your favorite pre-made seasoning blend, mixed well
*oil for frying
1 cup red cabbage, thinly shredded
1 cup carrot, julienned
½ cup poblano pepper, diced
½ cup cilantro, chopped
¼ cup rice wine vinegar, more as needed
3 tbsp honey or agave
kosher salt
Please see video for cooking instructions. Everything can be made at least 1 day ahead.
Use this recipe to make slider buns. Instead of making 1 large loaf, just divide the dough into 8-12 round balls and bake on a baking sheet in a 400-425 degree oven until golden brown.
The chicken gets baked in a 425 degree oven for 20-25 minutes. It can be reheated in a 400 degree oven the next day until warmed thru.
Recipe by
CarnalDish
at http://carnaldish.com/recipes/sandwiches/oven-fried-chicken-sliders-with-roasted-red-pepper-aioli/