Sweet-n-Spicy Garlic Ginger Chicken Wings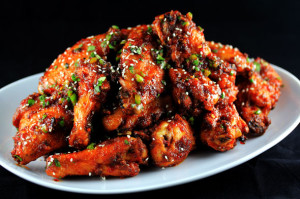 Author:
Resha from CarnalDish
4 pounds chicken wing parts, patted dry!
3½ - 4 tablespoons aluminum-free baking powder
1 tablespoon kosher salt
1 tablespoon freshly ground black pepper
1 tablespoon sweet paprika
½ tablespoon smoked paprika
2 teaspoons chinese five spice
1 tablespoon granulated garlic
1 tablespoon granulated onion
Equal parts honey and garlic chili paste (Sambal Oelek), quantity is up to you.
1 tablespoon fresh ginger, grated (feel free to add more)
1 - 2 tablespoons rice wine vinegar
1 tablespoon low-sodium soy sauce
¼ teaspoon toasted sesame oil
Lime zest
Chives
Cilantro (optional)
Toasted sesame seeds
Preheat oven to 425
In a small bowl, combine all glaze ingredients, taste and adjust, then set aside.
Thoroughly coat chicken with baking powder mixture, and bake in the center of your oven on a baking rack over a foil lined baking sheet for 20 minutes. Remove from oven, flip all pieces over and bake an additional 20 minutes. Lastly, remove from oven and flip once more and cook for an additional 10-15 minutes or until chicken is crisp. Let chicken rest 5 minutes, then toss in ½ of your glaze mixture to coat. If it needs more, add more.
Garnish with chives, lime zest, cilantro (if using), and toasted sesame seeds.
Serve.
Use about 1 tablespoon of aluminum-free baking powder per pound of chicken. If your wings are particularly tiny in size, cooking times will definitely vary. You may want to shave about 10-20 minutes off total cooking time for smaller wings. If you have leftover glaze, it can be refrigerated for up to a week.
Recipe by
CarnalDish
at http://carnaldish.com/recipes/meat/poultry/sweet-n-spicy-garlic-ginger-chicken-wings/