The Juiciest Turkey Burger Ever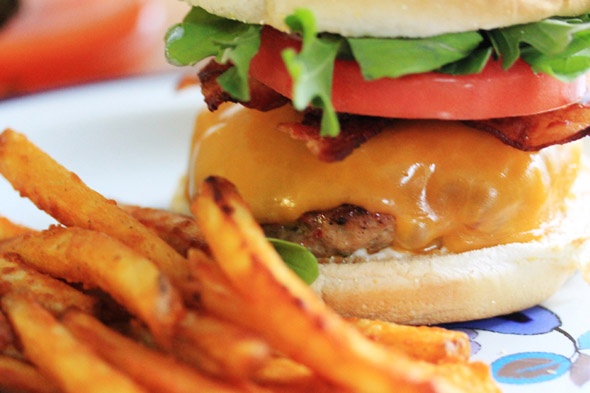 1 lb ground turkey (93/7)
2 tbsp worcestershire sauce
1 tbsp + 1 tsp heavy cream
2 tbsp water
2 tbsp extra virgin olive oil
¼ cup seasoned bread crumbs (add a little more if needed, can use plain)
1 tsp garlic paste (or 2 small garlic cloves chopped)
1 tsp chili paste
1 tbsp dried parsley
2 tsp dried cilantro (optional)
2 tsp kosher salt
freshly ground black pepper, to taste
chili powder, to taste
onion powder, to taste
cayenne pepper, to taste
granulated garlic, to taste
McCormick Grillmates Montreal Steak, and Hamburger seasoning blends, to taste (optional)
dash of cumin (optional)
In a medium bowl, mix all ingredients together until well combined. Use as much or as little of the un-measured seasonings as you'd like, roughly between a half to full teaspoon of each. Just try to use your best judgement. Remember ground turkey is slightly more bland than beef, so you can kinda get away with adding so many different flavors here. You don't have to use ALL of the seasonings I used, but definitely use what you have. These are merely suggestions.
Cover and refrigerate for at least an hour. I let mine marinate for about 4 hours.
When ready to cook, heat about 1 tbsp olive oil in a skillet over medium heat.
Form your patties about 1½ inches thick. They will be tender to form, so be gentle. Lightly pinch the middle of the patty together to make an indentation. This prevents the middle from rising as much and giving you a rounded burger instead of a flatter one. Cook for about 5 to 7 minutes on each side, or until juices are clear of any pink.
DO NOT PRESS YOUR BURGERS WITH YOUR SPATULA!!!!!
Remove skillet from heat and top with the cheese of your choice. Cover the pan to allow the residual heat to melt the cheese.
Toast your buns, gather your other toppings and build the juiciest turkey burger ever.
Enjoy!
Recipe by
CarnalDish
at http://carnaldish.com/recipes/sandwiches/the-juiciest-turkey-burger-ever/